Lecture Addresses Ancient Voyaging and Modern Sustainability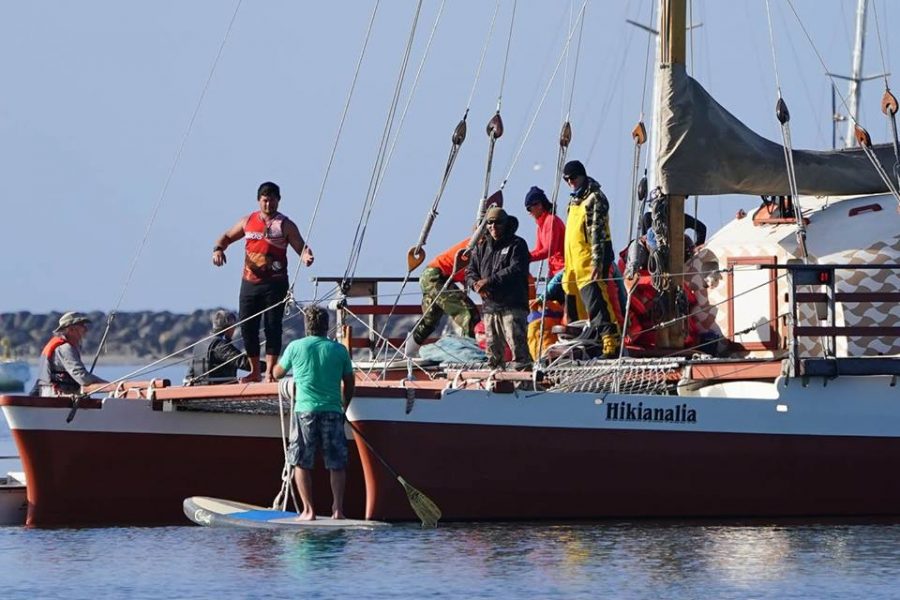 Claire Jeantheau '21, Staff Writer
September 27, 2018
One of Dickinson's English professors held an interactive presentation on one Hawaiian vessel's 26,000-mile trip in 2017 that was conducted using exclusively ancient wayfaring techniques. 
The talk, called "Hōkūleʻa: Polynesian Voyaging & Global Sustainability" described the global travels of the boat Hōkūleʻa, and its crew's mission to promote awareness of the environment and Pacific culture around the world.
Dickinson English Professor Sheela Jane Menon guided the presentation. She explained how the Hawaii-based Polynesian Voyaging Society established the Hōkūleʻa voyages. The original boat, constructed from traditional designs, completed a journey from Hawaii to Tahiti and back in 1976. Several trips have been made since then, including the most recent voyage ending in June 2017. The voyagers try to spread "aloha"—deep passion and respect for the earth.  
Menon said the Hōkūleʻa voyagers practice wayfaring, or navigating by the movement of the stars, waves and winds. Participating sailors believe this demonstrates connections between Polynesian culture and the natural world. 
Menon used a conversational approach to her lecture, mixing multimedia with discussion. Attendees watched video interviews of the Hōkūleʻa crew, listened to music inspired by the journeys and read poetry. 
"I really appreciated Professor Menon's incorporation and consideration of several different learning styles," said Lauren Toneatto '21. "She included visual videos, verbal discussion and individual reading time, which I thought was extremely beneficial for audience members who may not be auditory learners, as this is the approach many speakers typically take." 
Shante Toledo's  '21 past knowledge helped her to understand Menon's discussion of Hawaii's relationship to the United States.
"I understood [the topic] because I also was fortunate to learn how Hawaii was annexed," Toledo said. "It was very sad because the queen [Queen Liliuokalani, Hawaii's last ruler] was imprisoned and the country [was] basically owned by plantation owners." 
"Hōkūleʻa: Polynesian Voyaging & Global Sustainability" is part of a series of events focusing on connections between gender and the environment, according to Donna Bickford, director of Dickinson's Women's and Gender Resource Center, in her introduction to the presentation. The theme was established to help commemorate the center's 10th anniversary this year. 
Gender remained a constant thread throughout the talk. Students were quick to note that a graphic of notable Hawaiian voyagers, from sailors to astronauts, featured exclusively men. An article read by attendees later in the presentation detailed how women were barred from the first Hōkūleʻa voyage; the rule has since been lifted and a woman led its most recent trip. 
The Women's and Gender Resource Center hosted the event with the Office of Academic Advising, the Women's and Gender Resource Center, Phi Beta Kappa and Alpha Lambda Delta.  The presentation is part of the "Ripped From the Headlines" lecture series of the Dickinson Four program and was held Sept. 24 in Althouse.