Speaker Cites Technology, Advancements as Path to Solve Problems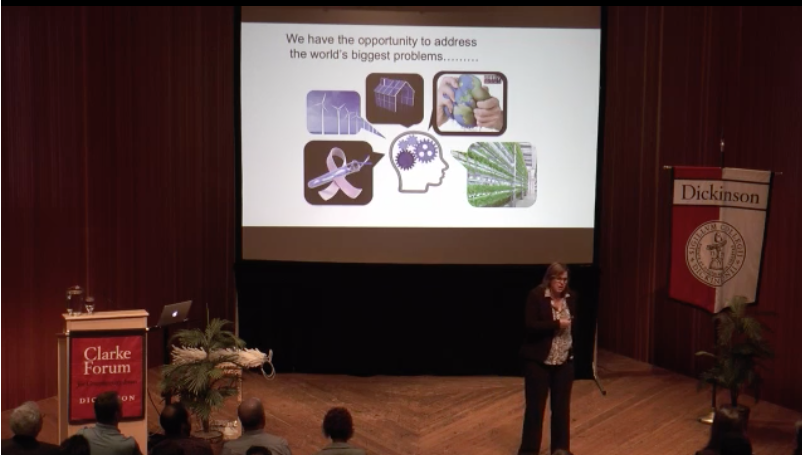 Claire Jeantheau '21, Staff Writer
October 4, 2018
Biological and materials engineer Angela Belcher said at a Dickinson event that much of the "political and social implications" of health care, climate change and water will be solved through technology.
Belcher was the 2018 recipient of Dickinson's Joseph Priestley award. She spoke to a crowded ATS auditorium on Thursday, Sept. 20 about the possibilities of bioengineering, including virus-powered batteries and chemical warfare neutralizers.
Belcher presented these innovations, which make up some of her life's work in the field, during the 67th annual lecture of this award, titled "Giving New Life to Materials for Energy, the Environment, and Medicine."
The focus of the talk was Belcher's attention to nanoparticles, particularly viruses, an interest she has had "for pretty much as long as I can remember."  She has used this focus to develop new materials throughout her scientific career. Her work has extended across different industries and has influenced virus-based energy, military vehicles powered by that energy and nanotechnology in cancer research. 
Belcher tied these ideas together with interactive tools: a light-up glowing virus replica, plastic molecules tossed to the crowd and an abalone shell passed around the audience. 
The abalone shell also served as an explanation for Belcher's scientific process. She takes advantage of the naturally repeating patterns in organisms that give them unique qualities, like an abalone's toughness, and then replicates those for use in human products. 
 "The secret for why nano is so important is because when you shrink something down to the atoms, how those atoms react to each other changes," Belcher said. By modifying the smallest particles of organisms, she expands the capabilities of what she calls their "toolkits."
Alexis Scott '19, a biochemistry and molecular biology major, was impressed by Belcher's lecture.
"As an aspiring scientist, I thought that [Belcher's presentation] was really inspirational, and I was definitely able to make connections between what I've heard here and my experience at Dickinson," Scott said.
Sydney Taylor '21, another attendee, was impressed by the originality of some of Belcher's ideas. "I thought Angela Belcher's talk was absolutely fascinating and that it highlighted some of the creative ways science is being used to help people," she said. 
The Joseph Priestley Award is given yearly in memory of Joseph Priestly, who discovered oxygen. It is presented to "a distinguished scientist whose work has contributed to the welfare of humanity," as stated on the Dickinson College website.
The award recognizes Belcher's extensive past work in bioengineering, including the foundation of two companies, ovarian cancer research at the Massachusetts Institute of Technology and the publication of dozens of papers. She was named as one of 100 people who are changing the world by Rolling Stone magazine in 2009, and is a fellow of the MacArthur Fellowship, Packard Fellowship, National Academy of Inventors, Alfred P. Sloan Fellowship and National Academy of Engineers,  according to the Clarke Forum website.
Cindy Samet, professor of chemistry, described Belcher in the opening remarks of the lecture: "She is most certainly an inventor herself, an innovator of materials, a true virus whisperer."