Women's Soccer Loses to Ursinus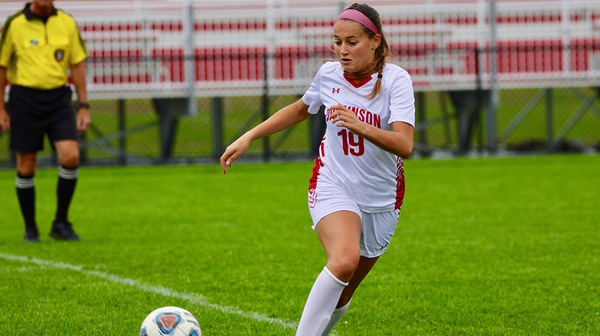 Building off an exciting 5-2 win against rival Franklin & Marshall Wednesday, Sept. 26 the Dickinson College Women's Soccer Team was filled with determination to play the same way against Ursinus Saturday, Sept. 29. 
The women came out of the gates ready to play. Just a few minutes into the game, Ally Diez '21 scored the first goal of the game and started the momentum for the rest of the play. This was her fourth goal of the season, she has been playing a great season for the Red Devils.  
Throughout the rest of the first half the women of Dickinson and Ursinus alike did not put any more points on the board. There was good defense played on both ends and the teams held the score to 1-0 going into the half. 
In the second half, the Ursinus Bears scored off a corner and brought the score to a tie game. Even though the Red Devils pushed into the final minutes they could not complete another goal and the game clocked ticked down with the score remaining a tie at 1-1. This sent the women into overtime. 
In the opening of the extra time for the game the Bears got a shot in in the first minute and held the Red Devils with their advantage. At the end of the extra period, the Bears maintained the lead and gained a 2-1 win out of the overtime. 
Even though the game resulted in a loss it was not from a poor game on the part of the Red Devils. Dickinson was on top in terms of shots taken as well as corners. They held the lead 13-6 and 5-3 respectively.   
This game although a loss did not take away from the Red Devils positive winning record. They stay at 6-2-2 overall and 2-1-1 in the conference.