Students Confused and Intrigued by Fall Production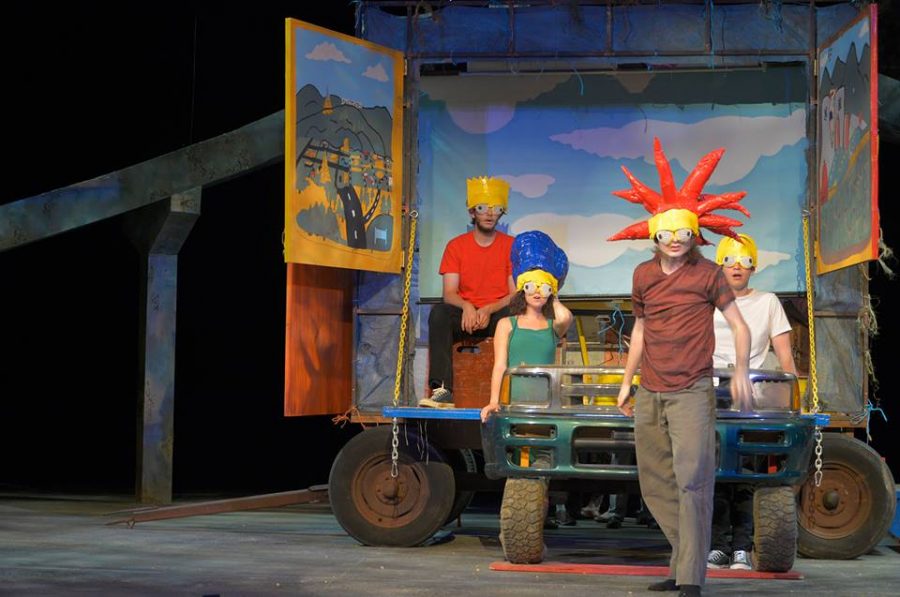 Sarah Manderbach '22, Staff Writer
October 18, 2018
After a nuclear apocalypse and the collapse of the electric grid, survivors cling to the last strings of life and comfort each other by re-enacting their favorite "The Simpsons" episode, "Cape Feare." 
This is the premise of Mr. Burns, A Post Electric Play, the Theater & Dance department's fall production which was unveiled on Friday, Oct. 12. 
The show then cuts to seven years later, when the main characters have started a touring theater group based on "Cape Feare." The final act takes place 75 years in the future. The classic "Simpsons" characters–Bart, Homer, Lisa, Maggie and Marge–have become revered mythical figures, and their story has become an allegory for the history of the apocalypse.
Jonathan Long '19 played Matt and Homer Simpson in the performance. "It's a really weird and challenging show to get," said Long. "It's a lot of information being thrown at the audience at once."
Sophie Mahoney '22 said she was sometimes confused, though impressed while watching the performance. "The actors were so good and it was a cool play, even though I didn't get what was going on," she said. 
Kristen Kim '21, the stage manager for the play, said she thought the opening night went well. "I think this run is definitely the best we have run it ever. I'm really proud of everyone."
Long said the play's commentary on storytelling is important. "The most significant thing is this evolution of storytelling. We're taking fragments of an idea in act one, and they sort of evolve into something completely different. It's about this telephone effect with stories over time."
The student reactions of the play were mixed. Stephanie Klein '21, said she was confused by the ending. Although, "I was into the singing and the steampunk aspect," she said.
"I wasn't really sure what to think of it at first either," said Erin Lowe '22, who played Maria. "I think that one really cool aspect of it is that it shows us the power of storytelling,"
"Shakespeare was supposed to be the playwright for the masses, and now it's something that people of all social classes… can appreciate," she said. "Storytelling survives all." 
Mr. Burns, A Post Electric Play was presented by the Department of Theatre and Dance, the Department of Music and the Mermaid Players. The show was held in the Mathers Theatre on October 12, 13, 15 and 16 at 8 p.m. Tickets were seven dollars, or five with a student ID. The proceeds from the ticket sales go towards the departments and their future productions. The show lasted approximately two hours and fifteen minutes, with a ten-minute intermission between acts.