College Seal Myth, History Revealed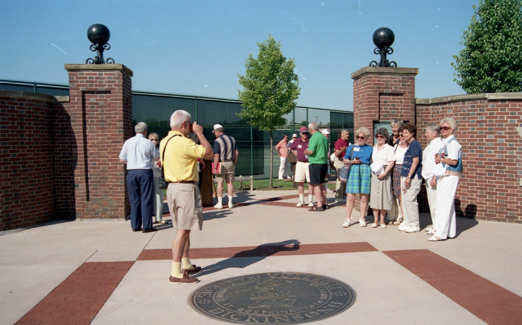 When visiting campus, prospective students are warned that if a student steps on the college seal on Britton Plaza outside of the HUB, they will not graduate on time, a myth of unknown origins, according to Greg Moyer, director of admissions recruitment.
This myth now also claims that if a prospective student steps on the seal, they will not gain admission to the college and if a parent steps on the seal, their child will not get financial aid. 
"[The myth] may have started my senior year 2005-2006," posed Moyer. Many schools across the world also uphold this superstitious tradition and others similar to it. 
Originally the seal was located outside the tennis courts at the entrance of Biddle Field, but it has since been moved to the middle of Britton Plaza. Tara Renault, executive director of donor relations said, "We believe this was under President Durden's direction to make it more visible." 
The superstition about stepping on the seal started when the seal was moved to Britton Plaza, where it has been for more than a decade. 
The college seal was given to Dickinson as a gift from the class of 1959 made for their 40th reunion in 1999. Jim Gerscener, college archivist, said, "The seal was moved to Britton Plaza in August 2003, and the small plaque acknowledging the gift of the class of 1959 is there with it, but it's easily overlooked because of its small size." 
"The class will be celebrating their 60th class reunion this summer, so the seal will be 20 years old in June," Renault said. 
Neither the college archives nor the Office of Donor Relations or Facilities has information regarding the fabricator or designer of the seal and they are not acknowledged on the plaque. 
Renault said "The cost to fabricate and install the seal was $8,000," and "in total, $111,826 was raised from 63% of the members of the class that year to support the college." 
The bronze seal embedded on campus is a replica of the college's seal, which was established by Benjamin Rush and John Dickinson in the summer of 1784. It now consists of an open Bible, a telescope and a cap surrounded by the inscription "Pietate et Doctrina Tuta Libertas," a Latin phrase meaning "Freedom is made safe through character and learning." 
Simran Dali '22 has already stepped on the seal; however, she is not concerned about her chances of graduating on time. "It does not really matter. If you step on it, then you'll be okay, but it just depends on the person. Especially since the tradition did not start until recently and every other college says this," she said.
Tyler Barlow '22, on the other hand, is very against the practice of stepping on the seal stating that "stepping on the seal is bad karma I don't need against me in the universe, there is already enough."