Exhibit Examines Guns in American Culture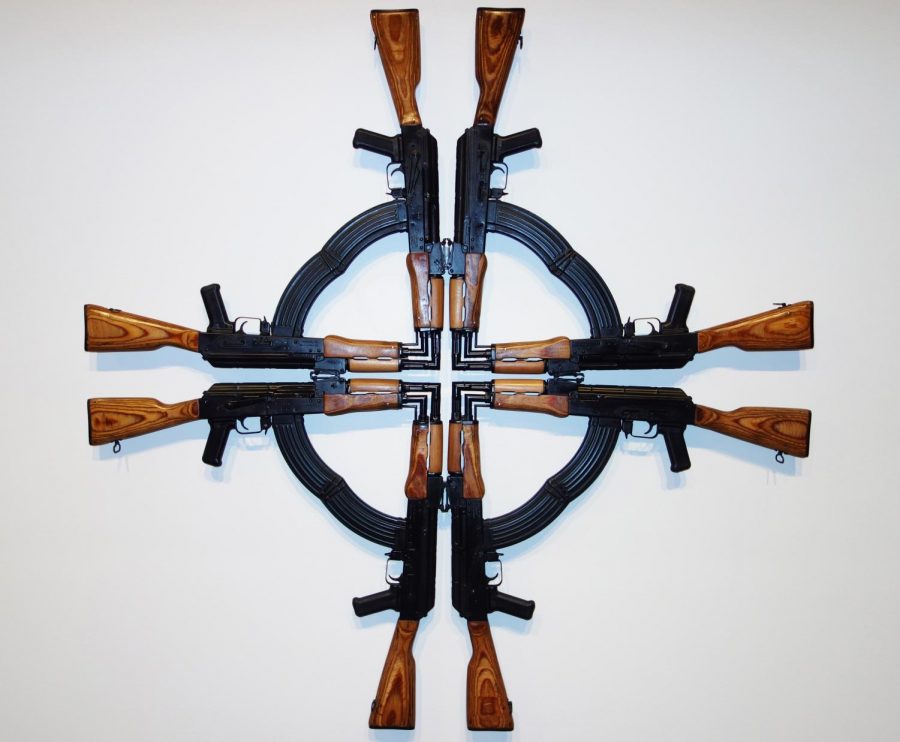 Sarah Manderbach '22, Staff Writer
November 8, 2018
A week after a string of hate crimes involving guns, The Trout Gallery's opened the exhibit "Unloaded: An Exhibition Exploring Guns in Our Culture," on Friday, Nov. 2.   
According to The Trout Gallery's website, the exhibition is a "multi-media, group exhibition that explores the historic and social issues surrounding the divisive nature of gun ownership in the United States." A majority of the works were created by other artists, but a small few were created by the curator herself to help elevate the message of the exhibition.
The event started with a lecture from the curator at 5 p.m. prior to the exhibit being opened to the public at 5:30 p.m. until 7 p.m.
"It's a traveling exhibition and The Trout Gallery [is] slated to have it now," said Mary Emma Heald '19, a museum interpretation assistant with The Trout Gallery. "This was planned two years ago, so you never know what's going to happen."
Susanne Slavick is the Andrew W. Mellon professor of art at Carnegie Mellon University and the curator of Unloaded. Slavick was in the city of Pittsburgh when a gunman opened fire in the Tree of Life synagogue, killing 11 worshippers. "I teach in the city and Tree of Life synagogue is in walking distance of my university," she added. "I attended the remembrance… It was quite moving and powerful and sorrowful, but it felt good to be with people."
During the event, guests were invited to attend a Shabbat service at the Asbell Center Sanctuary at 6 p.m., followed by dinner and reception at 7 p.m.
Slavick said that she has not really received any backlash from her exhibition. "I expected a lot more flack," Slavick admitted. "A man came up to me and told me he works for a gun manufacturing company. He was trained in military education and he seemed kind of ashamed of what he did. But, he said it's really fascinating seeing the other side of this issue."
Slavick discussed her inspiration for piecing together the exhibition. "I originally curated a show about the aftermath of war," she said. "When that project toured around the country, I thought that was about violence abroad and I said okay, but what about the violence at home?"
Slavick also attributed the inspiration for the exhibit to the rising of gun statistics within the country. "It's important for me to show what I believe is the kind of incredible tolerance of a cause of death, homicide and suicide that could be ameliorated by sensible gun legislation."
"Unloaded: An Exhibition Exploring Guns in Our Culture" will be on display until Feb. 16, 2019.