Storyteller Spins Tale of Native American History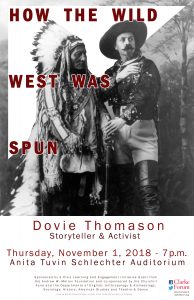 Claire Jeantheau '21, Staff Writer
November 8, 2018
Hang on for a minute...we're trying to find some more stories you might like.
A storyteller used a unique presentation format to illustrate the impact of perception on history—particularly indigenous history—in a Clarke Forum event. 
Dovie Thomason, a lecturer of Lakota/Kiowa Apache descent, led the presentation of "How The Wild West Was Spun," an examination of the performance of Buffalo Bill Cody's Wild West Show in Europe. Thomason combined her research of those involved with the show—including first-person accounts from journals—with the narrative format of a story. 
"I'm not here to revise history, but here to augment it and make it more complicated," Thomason said. "I think it's time we address the uncomfortable."
Sofie Eftekhar '21 referenced this quote in reflecting on the event, saying it "really stuck" with her.
"I thought her story was powerful and she seemed really passionate about it," Eftekhar said. 
The center of Thomason's presentation was the Wild West Show, a historical re-enactment of events from the American West in the late 19th century. Her research has focused on how Native Americans hired as part of the show felt about its portrayal of history, as well as how they were received by the watching royalty in England. 
The event served as the focal point for Thomason's broader message on the importance of how stories are told over time. Her presentation referenced the era's popular adventure literature of "pulp fiction" and "penny dreadfuls," along with how men like Bill Cody attained their celebrity status. She took aim at the "manifest myth" of America's past westward expansion, which she believes has been used to suppress the stories of the Native Americans who were harmed by these actions.
Thomason described first gaining an interest in her story's subject when she saw an image of Native Americans on the first Ferris wheel at the Chicago Museum of Science and Industry as a child. Today, she has presented at venues ranging from the TEDx Leadership Conference to NASA and has received recognition from the National Endowment of the Arts for her craft.
"[Buffalo Bill's] story was a story he never called a show. He called it "America's Story." The "Drama of Civilization." Now it's my turn," Thomason said. 
Thomason's story also had connections to the Carlisle Industrial Indian School, an area boarding school which operated from 1879-1918 and separated Native American children from their parents. This year, the 100th anniversary of the school's closing is being commemorated. Thomason traced an exhibit at the Chicago World's Fair, which depicted a progression from Native Americans to "civilization," to the assimilationist stance of school founder Richard Pratt.
David Blosser '19 described the story told by Thomason as "amazing."
"Through storytelling, Indigenous writers are challenging settler colonialism and imagining a different future," he said, "a future where Indigenous voices are not pushed to the margins, but instead brought front and center, demanding to be heard."
"How The Wild West Was Spun" was held at 7 p.m. on Thursday, November 1st, in the Anita Tuvin Schlecter Auditorium. The event was part of the Clarke Forum's Fall 2018 theme of "Indigeneity in the Americas."