"'Dick' back in Carlisle": Old Dog Mascots Dug Up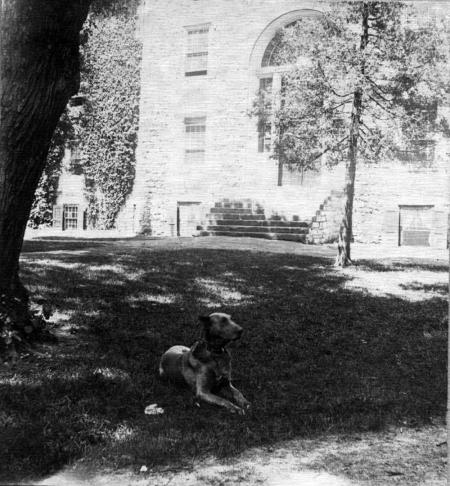 Stephanie Czmar '19, Managing Editor
November 29, 2018
Dickinson College was home to several canine mascots in the late 1800s through the early 1930s.
Dick, a great dane, was the most popular Dickinson dog. Dick was on campus from 1897 to 1903. A 2005 article from the Dickinson Archives titled "Dick the Dog" describes the old mascot as a frequent visitor of athletic events, dorms and even chapels, who was known for his "ostentatious" yawning during mass.
Dick was bought in November of 1897 by Dickinson students. Dick's first outing was to a Dickinson football game against St. Mary's College and he was "tastefully attired in red and white" according to an issue of the Dickinsonian printed Nov. 13, 1897.
Dick died in the yard of "Dr. Morgan" in Jan. 21, 1903 according to a Dickinsonian article entitled "Dick is Dead." Dr. James Henry Morgan was the college's dean at the time of Dick's death, according to Dickinson's archives. Dick had suffered injuries in the spring and had not been well since. His actions in the fall and winter were described as "restless." 
There were rumors upon Dick's death claiming he was poisoned, but according to Nov. 18, 1903  Dickinsonian article titled "No Poison," an autopsy revealed Dick actually died of pneumonia.
The student body decided during a special meeting that Tuesday to have Dick's body sent to a taxidermist so that his body could be placed in the college museum.
For a while, the stuffed dog was displaced from Dickinson's campus for unknown reasons. But in November of 1903 he was rediscovered in a department store window in Williamsport. Dickinson's football team saw the dog in a window and contacted the taxidermist to reacquire Dick, according to a Dickinsonian article titled "'Dick' Back in Carlisle." Dick was intended to be placed in the trophy room in Bosler Hall. The dog is no longer on campus, and his location is unknown.
Dick was not the only canine mascot to grace Dickinson's campus. Sigma and Chi were twin brother collies who belonged to the Sigma Chi fraternity. Chi died at 14, seven years after the death of Sigma, according to a March 16, 1933 Dickinsonian article titled "Sigma Chi's Mourn Passing of Mascot, Scatter Lilies at Impressive Rites." 
Professor Milton Walker Eddy put down Chi in the biology lab under the advisement of veterinary professionals and later buried the dog in the back yard of the Sigma Chi house. A burial ceremony was held, and the Sigma Chi brothers were pole-bearers. 
The fraternity's house at the time of Chi's burial was located at 41 South College St. The South College residence later became known as the Todd House, according to the archives' article titled "Sigma Chi House (1925-1964)"
Sigma Alpha Epsilon fraternity also had a dog during the early 1900s. Little is known about this canine however.
Additional reporting for this article was done by Bryce Dunio '22, contributing writer.
To see a poem commemorating Dick the Dog from 1903, see page 4.