Clarke Forum Event Pleases a Small Audience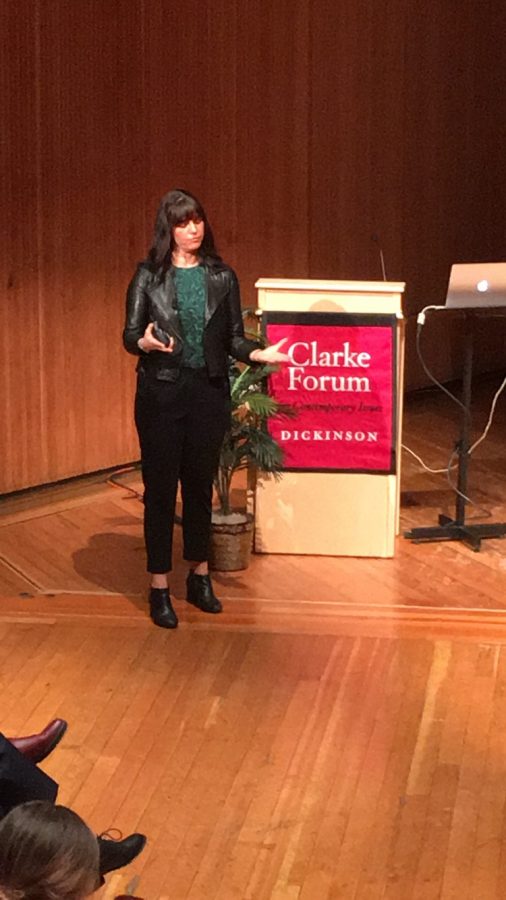 Rachael Franchini '19, Co-Editor-In-Chief
January 31, 2019
For its kick-off event of the semester's sustainability theme, the Clarke Forum invited Macarena Gómez-Barris to speak about her research and her book, The Extractive Zones, though the event attracted less than 50 attendees.
"It's kind of hit or miss," said Kayleigh Rhatigan '19, project manager for the Clarke Forum, on attendance at events. "The activities fair was the same night," she said, "and I also wondered if the title didn't cue people in as to what the event was actually about, so they didn't know what it was necessarily so they didn't attend." 
The event was called Extractive Zones + Decolonial Praxis.
Despite the sparse attendance, those who came to the event thought it was successful.
"I really loved the event," said Rhatigan. "[The talk] was really compelling."
"I think it went well," stated Rowan Humphries, Clarke Forum supervisor, "—the question and answer session especially because it created a great back and forth between the audience and the speaker that developed into an honest discussion about how we react to issues of neocolonialism and destructive capitalism and how it affects Indigenous peoples."
Rhatigan agreed that the question and answer session was a highlight of the lecture. "I think the audience was very engaged and the question and answer session went really well," she said.
Several questions were asked of Gómez-Barris following the talk, ranging in topic from sea edges as extractive zones, how to compel others to be interested and engaged in social activism and Gómez-Barris' interdisciplinary approach to studying these issues.
During her time on campus, Gómez-Barris took part in a faculty seminar and visited classes, as well as mingled with students and professors at the Clarke Forum reception preceding the talk.
"I thought that she worked really well with the campus as a whole," said Rhatigan. "The classes that she went to gave really good feedback."
During her lecture, which took place in ATS on Monday, Jan. 28 at 7 p.m., Gómez-Barris used shots from films, art and activism, sourced from Indigenous communities and artists, to convey the impact of extraction of resources, extractivismo, and colonial capitalism in Latin America.