Archaeologist Showcases Excavation Project of Sacred Greek Sites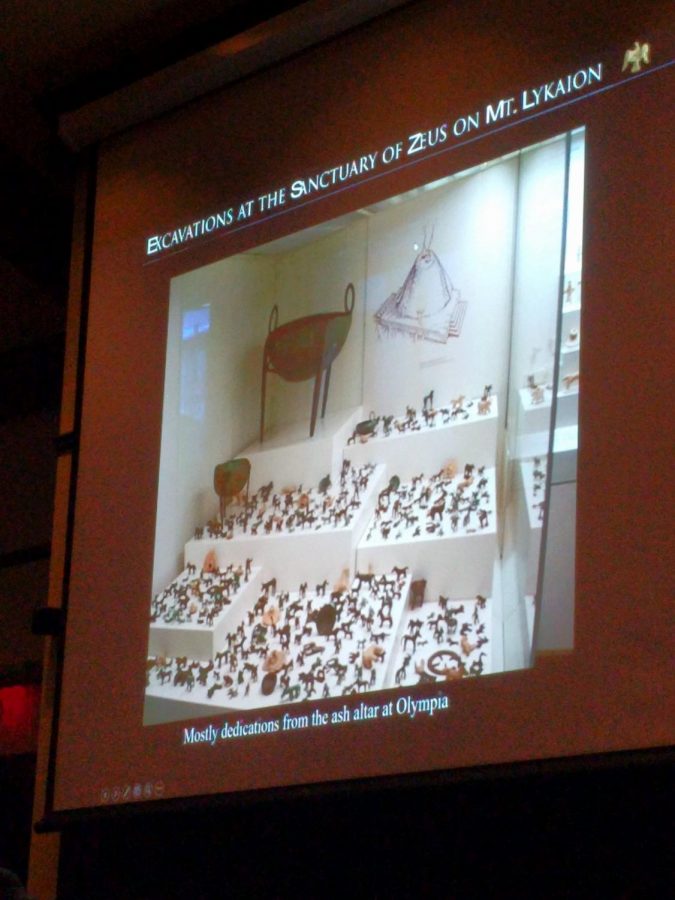 Claire Jeantheau '21, Staff Writer
February 21, 2019
An archaeologist shared the highlights of his most recent excavation in Greece in a visiting lecture, including discoveries which revived an ancient debate about the mythological birthplace of a god.
Dr. David Gilman Romano, a professor at the University of Arizona, delivered the talk "Altars of Zeus, Games for the Gods: Mt. Lykaion and Olympia in Early Greek Religion." He visited Dickinson on a lecture tour through the Archaeological Institute of America (AIA) to speak about his findings at the two titular sites, which yield insight into the world of ancient Greek athletic competition and religion. 
Romano described the notable features uncovered at Mt. Lykaion and Olympia, sites known for a mountaintop altar to the Greek god Zeus and the remains of an athletic hippodrome and stadium. He referenced the ancient Greek poet Callimachus, who wrote of arguments about whether Zeus was born in the region of Arcadia, or the island of Crete. Romano's discoveries of religious sites on Mt. Lykaion—located within Arcadia—add a historical dimension to the mythological question.
"If you've ever been up here, you'll know why they associate [this peak] with Zeus," said Romano, connecting the high altitude to the god's mythological domain of the sky. "It [the thunder] is severe and loud and frightening."  
Romano collaborated with Dr. Mary Voyatzis, whose research specializes in ancient Greek pottery. The two have discovered pottery sherds which date to people groups thousands of years before the Greeks. Their discoveries were profiled in a 2008 New York Times article: "An Altar Beyond Olympus for a Deity Predating Zeus."
"He [John Wilford, author of the NYT piece] was smart enough to know…he knows the theories about when did the Greek speakers come, when did the Greeks come, when did Greek civilization start?" Romano said. "We are dealing with the birthplace of Zeus, after all, but some of these sherds are coming from…maybe the 5th millennium BC!" 
Lucy Sowerby '19, an archaeology major, claims to have attended every AIA lecture Dickinson has hosted during her time on campus. She praised Romano for what she saw as a straightforward explanation of his research.
"As an archaeology major, this is the kind of thing I go to whenever I have the chance," Sowerby said. "I thought this was quite a good lecture. I really enjoyed the points [Romano] made and thought it was really accessible, even to those who aren't necessarily archaeology majors. I thought that he made his points very clear and understandable, and that he had some interesting excavations."
Jamie Norton '21, another archaeology student active in the department's co-curricular club, also appreciated the lecture.
"It was definitely enjoyable," Norton said. "It hit on a bunch of areas I'm interested in, and it's always nice to see someone talking about a current dig that they're working on."
"Altars of Zeus, Games of the Gods" was held on Tuesday, February 19th at 6:30p.m. in Denny 317. Romano spoke on behalf of the Archaeological Institute of America through the sponsorship of Dickinson's departments of Anthropology and Archaeology.