"Let the Youth be Heard" Rose-Walters Prize Winner Urges Young Voices in Environmental Activism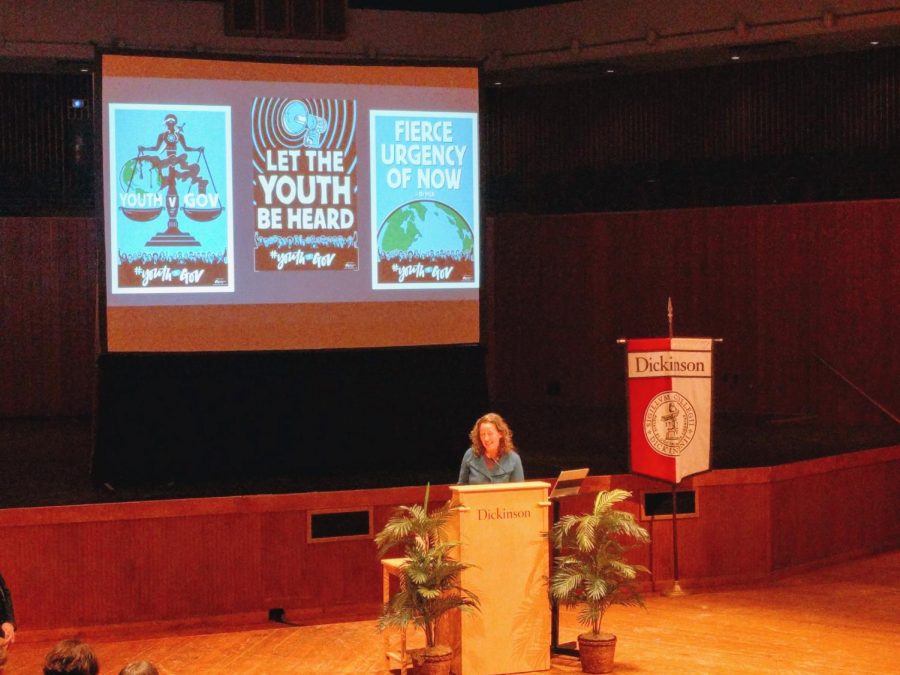 Claire Jeantheau '21, Staff Writer
February 28, 2019
The leader of a youth advocacy group behind an ongoing case against the federal government accepted a prize for environmental activism at Dickinson on Tuesday and invited the audience to a "Constitutional conversation" about climate.
Julia Olson, executive director of Our Children's Trust, delivered the talk "No Ordinary Lawsuit: Protecting Our Climate and Democracy" as she received the 2018 Rose-Walters Prize for Global Environmental Activism on behalf of the group. This marks the first time in seven years of the prize's presentation that it has been given to a group rather than an individual. 
Olson is the lead attorney in the ongoing case of Juliana v. United States, a lawsuit launched by 21 young people, one of whom is a current Dickinson student, against the American federal government. The suit, which has attracted media attention since it was first filed in 2015, argues that future generations have a legal right to a safe and secure climate.  Olson's talk centered around the legal and environmental foundations of Juliana, along with her experiences with the case's youth plaintiffs. 
"I've been asked—why youth? Why children? We've even been accused of using children…you should hear how my plaintiffs respond to that," Olson said. She added that young people have been involved with social issues for decades, tracing American youth activism from the civil rights era to the contemporary movements of Black Lives Matter, March For Our Lives, and the environmentally-focused Sunrise Movement.
The talk featured several plaintiffs' testimonies of their personal experiences with climate change including wildfires in California, floods in non-flood plains in Louisiana, and dangerous smog levels in Oregon. Olson argued that these conditions are a threat against personal security, along with a violation of rights of life, liberty and property, which American citizens are protected from by the Fifth Amendment.
Olson attributed the beginning of her work with law and climate to a viewing of the environmentally-focused documentary An Inconvenient Truth around the same time she was pregnant with her son.
"It was transformative to have children and look at them in the eye, at their innocent little buoyant selves, and know that what I am doing with my life today can determine the world they inherit and the legacy I leave behind for them," she said.
The speaker was introduced by Sophie Kivlehan '21, a biochemistry and molecular biology major who is one of the so-called "Juliana plaintiffs." For Kivlehan, the talk unified her experiences at Dickinson with those of the lawsuit—two areas of her life which typically remain apart. 
"My activism and participating in the lawsuit has kind of been separated from Dickinson where I've decided to branch off and do my own thing with biochemistry…certainly with my schedule, they still clash a lot, but it's nice to see that Dickinson is supportive," Kivlehan said. 
Apart from the prize lecture, Olson spent the last week in a residency at Dickinson. Her slate of activities included a talk with the Baird Sustainability Fellows and a climate change education workshop. Annie Baker, a student on exchange from Green Mountain College through the EcoLeague Consortium, led an interactive workshop with Olson.
"Sometimes you get a little down when you hear about all this stuff that's happening, and just hearing and seeing something solid being done with…a strong foundation that could actually happen is so uplifting,"
"No Ordinary Lawsuit" was held on Tuesday, Feb. 26 at 7 p.m. The Sam Rose and Julie Walters Prize is a $100,000 award and educational residency given yearly to a recipient with background in environmental advocacy. Updates on the progression of the Juliana lawsuit can be found on ourchildrenstrust.org.