French Dinner a Night of Culture and Food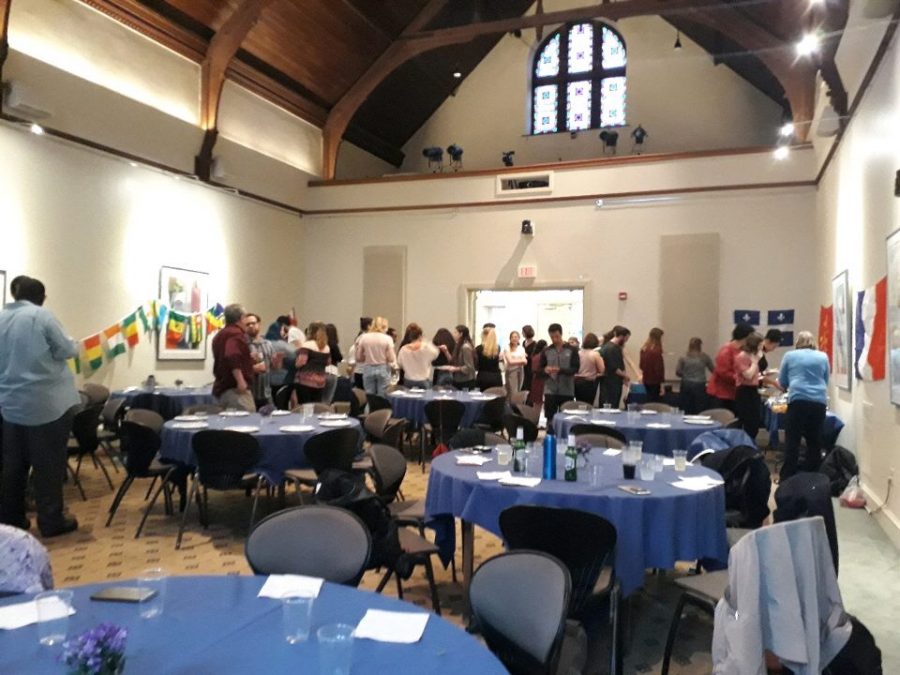 By Rachael Franchini '19, Co-Editor-in-Chief
April 18, 2019
The annual French Dinner was filled to capacity with over 50 students and professors gathering for traditional French and Francophone dishes, eclectic music and lively French and English conversation.
"We had the biggest number of dishes made by both professors and students ever, and all of them were delicious!" said Kat Pham '21, president of French Club.
The event is set up as a potluck, and professors and students can volunteer to bring dishes from French and Francophone cultures to share. This year, there were about 15 dishes brought to the event, in addition to a wide array of breads, cheeses and fruit. Wine and beer were available for attendees of age.
"I was thrilled with the turnout and the array of delicious dishes offered this year," said Assistant Professor of French Adeline Soldin, who is the adviser of the French Club. "This dinner always requires a lot of teamwork and we were especially impressed by all of the students who volunteered to make homemade dishes and help with preparations this year."
Associate Professor of French Dominique Laurent prepared cassoulet for the event, a traditional Toulousian dish which usually contains duck and white beans. Soldin prepared ratatouille and several varieties of quiche. Visiting Instructor in French and German Ann Husdon brought a raclette, a dish of potatoes, melted cheese and bacon or ham. Associate Professor of French Lucile Duperron shared dauphinoise, which is a potatoes and cream-based dish. 
"I could not be more thankful that we received a lot of help from the professors, making the event almost like a family union," said Pham.
Students also contributed food items, including quiche, Madeleine cookies, crepes, Aligot (a cheesy potato dish) and Galette du roi cake.
"I really enjoyed the dinner because I got to catch up with the ladies from Toulouse!" wrote Isabel Gourley '19, who studied abroad in Toulouse during the spring 2018 semester, in a message. "And it was a lot of fun making the Galettes du roi with Kat [Pham]."
"It was a true community effort, and a tasty one at that!" said Soldin.
"It was a wonderful event where the aroma of the food and the laughter of the people intertwined and made me super happy," Pham stated.
The Stern Great Room was decorated with the French flag, the flag of the European Union, small flags of other European countries and the Occitane flag, which is the region of France to which Toulouse, the home of Dickinson's study abroad program in France, belongs.
The Department of French and Francophone Studies, in conjunction with the French Club, hosted its annual dinner in the Stern Great Room on Sunday, April 14 from 6 p.m. to 8 p.m.