Grey Hats Tap 19th Class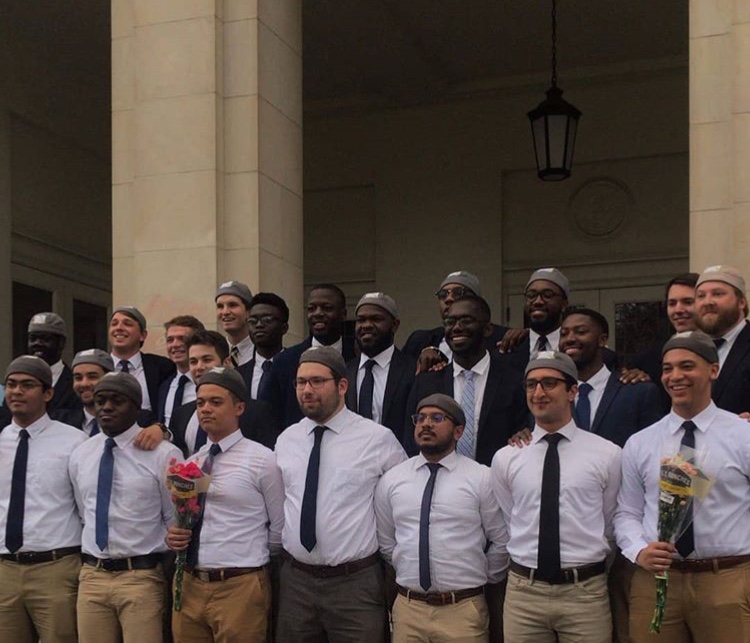 By Rachael Franchini '19, Co-Editor-in-Chief
April 18, 2019
The Order of the Scroll and Key inducted seven men into its 19th class during a well-attended event on the steps of Bosler Hall last Saturday, April 13.
Commonly known as the Grey Hats, this society originated in 2001 "with a mission of diversity and dedication to philanthropy and volunteerism in the Dickinson and Carlisle communities," according to the Dickinson College website.
The 30-minute ceremony, which featured short speeches from current members Keson Bullock-Brown '19 and John Adeniran '19, culminated in the tapping of seven rising seniors, who received hats from the previous members. The new members are: Ming-Hua Chang '20, Kevin Ssonko '20, Ah-Quell Ramirez '20, Noah Frank '20, Zayed Shahjahan '20, Aboody Rumman '20 and Ian Genao '20.
"I'm extremely honored," said Rumman. "[B]eing a part of the order is the utmost privilege for me. However, this is just the start of the journey."
"It was a big honor, I never expected to be a part of it," said Frank. "I feel like now I am definitely being called on to leave Dickinson a better place than I found it."
"It was a truly amazing honor for me to be tapped into The Order of Scroll and Key, and it was honestly a privilege and honor for me to stand on Bosler steps with my fellow scroll-men," said Ramirez. "In saying that, the tapping this past Saturday was just the beginning for me and my fellow scroll-men."
Vincent L. Stephens, director of the Popel Shaw Center for Race and Ethnicity, was tapped as an additional member of the 19th class, as an honorary faculty/staff member.
According to Adeniran, the current class of Scrollmen decides each year if they will tap an honorary member.
"Since our first year on campus, many of us have had interactions with Vincent through work, academic engagements, participation in programming, plus more. We've seen first hand the hard work that he's put into the center and we would be remiss to not recognize that," Adeniran said of the choice to tap Stephens.
"I have attended previous Scroll and Key induction ceremonies and [have] always been impressed by the high caliber of the students," said Stephens of the society. "For the Order to recognize my work on campus and induct me as an honorary faculty/staff member is a very flattering and humbling honor," he said.
The current class also honored Joyce Bylander, former vice president and dean of student life at Dickinson, for her work with the organization. She was given seven roses.