Changes in Dining Services Offers More Food Variety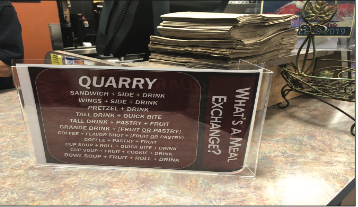 Dining Services has implemented changes for the new school year that will offer students a variety of ways to maximize their meal plans and dining options.
Meal exchanges, which are equivalent to one meal swipe for the Any 20 meal plan or a certain number of points for the Flex Points meal plan, have been changed to incorporate more items and offer a variety of combinations for students. According to Director of Dining Services Errol Huffman, retail locations were challenged to identify the number of meal exchanges offered. "I also asked the team to look at enhancing meal exchanges with additional espresso-based coffee options and healthy sides," Huffman said.
Last year, meal exchanges at the Quarry included a sandwich, piece of fruit, and a drink, while a meal exchange at Union Station included items like a salad and a drink. This year a meal exchange at the Quarry allows students to buy a sandwich, choice of fruit or carrots as a healthy side and a drink, while Union Station allows students to buy a soup, salad and a drink. Although customers will buy more items, the prices for meal exchanges and other retail items have not changed from last year. According to Retail Operations Manager, Stephanie Doulgeris, the new meal exchanges are, "the biggest value-add to the meal plan from retail!"
New meal exchanges allow for Dining Services to sell new items this year at retail locations. Some of these items include new vegetables for sandwiches and pitas, and lettuce wraps for sandwiches. "Changes were made based on the same reasoning we use each year," said Huffman, "review the product velocity of the last year, eliminate the less-popular items and add new items that may appeal to students."
Although there are fewer hot beverage options at the Quarry, Retail Operations Attendant Carrie Romano believes this is a good thing. "Less options that are available to a guest makes the food you are getting a higher quality and more consistent and delicious."So far Romano said that students have been receptive to these new changes and are still "excited" about menu favorites.
Some students appreciate new menu changes but wish there were more vegetarian and vegan options. Prachi Shah '22 said the menu did not change to incorporate vegetarian options that she needs. "Other than that, I'm pretty happy about the carrots," Shah said about healthy side feature.
Sophia Scorcia '20 thinks the menu is fine but said she wishes the Quarry "kept toasting everything" since toasted deli sandwich items are no longer an option.
These changes are coming after a previous series of temporary changes to menu options. The Dickinsonian reported on April 22, 2019 that Dining Services had instituted a temporary reduction in food options at Union Station and the Quarry for the end of the Spring 2019 semester. The previous changes were prompted by both equipment failures and short staffing, and aimed to increase efficiency at affected dining locations.
According to Huffman, one reason for the new reduction in dining options is to "simplify production" for student employees at the Quarry and Union station to "make steps easier so that the result is a better product."
New menu items at both retail locations will continue to be available for purchase throughout the academic year.