"This is What Democracy Looks Like!" Students Protest Climate Change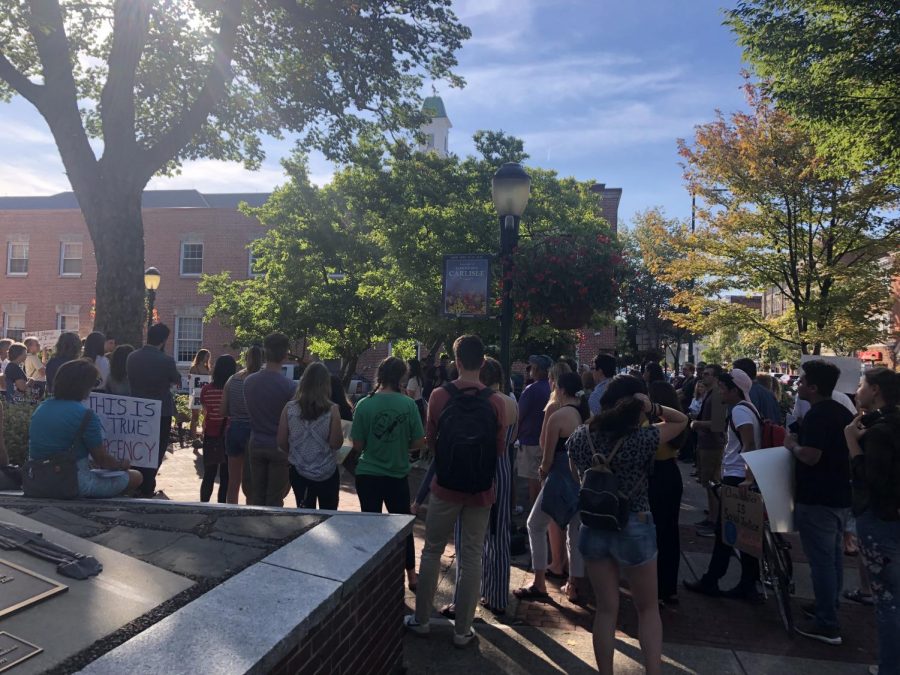 A demonstration against climate change occurred in the downtown Carlisle area, where Dickinson College students, faculty and local community members protested politicians, industries and policies that are said to contribute to environmental degradation. 
The climate strike took place in the Carlisle town square on Friday, Sept. 27 at 4:00 p.m. and drew in a crowd of roughly 60 people. The event was advertised by the Dickinson College Tree Club, which organized an initial meetup with students to march to the square before the strike began. On Thursday, Sept. 26, the club hosted a sign making activity to encourage students to participate in the rally. 
Students at the Carlisle climate strike were given the option to recite their own speeches or recite poems by famous activists and leaders. Estefany Valera '22 delivered an original speech that highlighted the effects of environmental racism on communities of color and Indigenous communities. "They're a lot of things left out of the rhetoric of climate justice and experiences of marginalized communities which includes communities of color," Valera said in response to her inspiration for creating the impromptu speech. She continued that it is important to hold institutions accountable for environmental degradation, but that it is also important to, "give space for the people who don't get to have their voices heard."
Other students in attendance listened to the speakers while they help up signs to display to the public. Peter Gaston '22 created a sign that read "A healthy planet is worth more than your oil profits" and said that he attended the event because climate change is a "huge issue in our society" and explained his role in environmental advocacy because "if I could do my part devoting an hour or two, I'm always going to do that." Bryana Barron '20 created a sign that read "Look Pendejos! Protect our mother EARTH." Barron said she wanted to represent the "little that's been represented on campus" due to climate change affecting people of color, like herself, and other communities of color. Barron explained that she was proud of the event's turnout but that the administration, "[…] needs to step up and say if we are going to be sustainable, then we need to have our student body represent that."
Global media attention to climate change has helped spark a new generation of climate activists and advocates. After the speeches by attendees, the climate strikers in downtown Carlisle marched through the area and facilitated chants to draw attention from the public. Kara Smith '21 said she participated in the climate strike and march because, "We need to make a change and make a statement. Nothing's going to change unless we have people actively advocating for it." Joel Thompson '22, said he participated in the climate strike and march due to future dangers from the effects of climate change. "I want to make sure that my kids and their kids have a safe place to live without pollution," Thompson said, "and honestly at this rate there isn't going to be a planet in a few hundred years—which is a bit concerning."
The event featured a large majority of students, but there were also other community members in attendance. Ian Thomas, a resident of the Harrisburg area, explained that he participated in the Harrisburg climate strike last Friday, Sept. 19 and participated in the "Fridays for Futures" climate rally on Sept. 26. Thomas said that it's important for "everyone to be involved [in environmental advocacy] and he took the same actions while in college. "I just don't understand how more people aren't doing this [protesting]," Thomas said, "It's like what Greta [Thunberg] said: 'how can you know this information and not be angry and not want to do something about it.'"
Media coverage of climate change has skyrocketed within the last 20 years. According to the International Collective on Environment, Culture, and Politics website, there were over 700 climate change related articles released in 2019 by five major U.S. publications (The New York Times, The LA Times, The Wall Street Journal, The Washington Post, and USA Today). This compares to the less than 80 climate change related stories in 2000. 
Recently, climate strikes and protest have been in the national media as the United Nations (UN) held a Climate Change Summit from Monday, Sept. 21 to Wednesday, Sept. 23 in New York. Leaders, delegates and citizens from nations all around the world met to discuss policies and implementation strategies to slow down the effects of climate change. According to the UN website, the purpose of the summit was to, "spark the transformation that is urgently needed and propel action that will benefit everyone."
The summit gained global attention due to a speech made by 16-year-old Swedish climate activist Greta Thunberg. In an apparent emotional delivery, Thunberg addressed world leaders as she said, according to a Sept. 23 article from the Washington post, "[…] We are in the beginning of a mass extinction, and all you can talk about is money and fairy tales of eternal economic growth. How dare you?" Thunberg's words and the UN Summit have sparked climate strikes across the United States. 
According to Thomas, there will be another climate strike on Friday, Oct. 18 at the state capitol, with an expected turnout larger than the previous strike.