Art Exhibit Welcomes a Small Crowd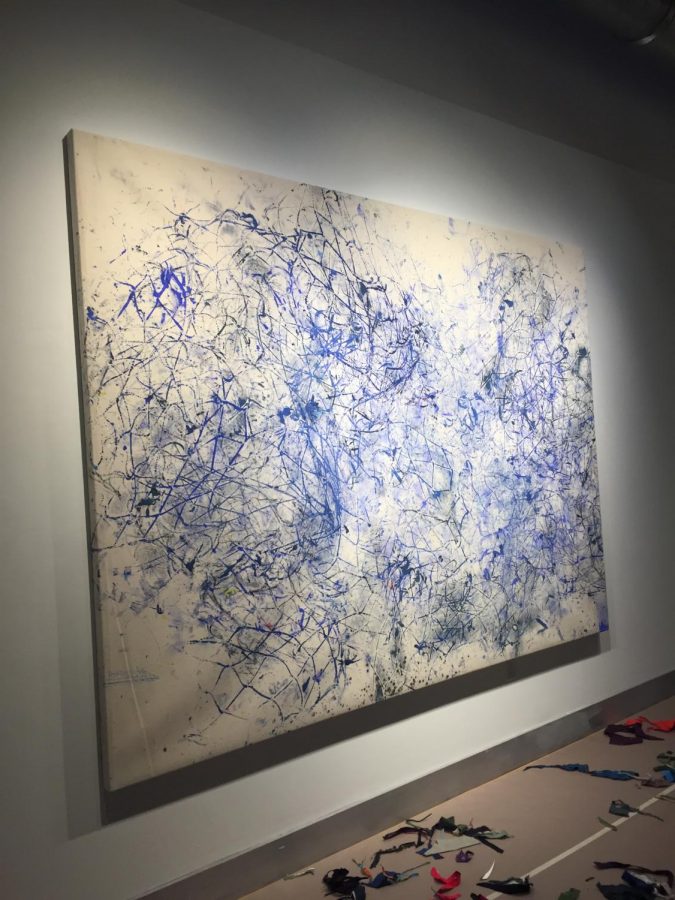 Alice Reichfield '21, Contributing Writer
October 10, 2019
The Goodyear Gallery is currently housing Jonathan VanDyke's latest exhibit "The Ladder Maker" for the members of the Dickinson College community and the public to view.
A stand in the entrance offers a biographical paragraph about the artist, along with a directional list of the pieces on display in the gallery. The opening display was attended mostly by older adults and their children with approximately 25 people in attendance.
Two of the installments, entitled "Two Holed Charley" and "Half Life" were dripping fresh paint onto the tarp underneath their placements on the wall. "Two Holed Charley" leaks blue paint, and according to the informational pamphlet, is comprised of a urethane rubber cast. The piece's plaster fish netting that pokes out against the darker wood background is reminiscent of a leaking ship, especially when accompanied by the growing puddle of blue paint below that can be seen making its way down the fish netting. Within "Half Life", however, the inner workings of the piece are more concealed, and while the viewer can see the line of orange paint from where it starts under the circular knob, the obscurity of the origin point encourages the viewer to spend more time with it. "Half Life" is also a more striking piece because of the sharp contrast between the bright orange paint and the beige, crisscrossed, almost argyle style background, and is made of canvas, linen, and cast plastic. 
Another piece included in the exhibit entitled  "Bi", Alex Sowanick '21 described the piece as a  "colorized version of one of M. C. Escher's tessellations" due to its meticulous design of constellated rhombi and almost 3D effect created by playing with lighter and darker shades of cloth. "Bi" was made from used soldier's t-shirts, dyed linen and was overlaid with paint. "X v. Y" is also interested in geometric shapes, and includes warped and interrupted colorful lines that hint at an overarching diamond figure. The painting "Vers" is much more free-flowing, and is a massive white canvas splattered over with blue and greyish-black lines that are almost webbed together. 
Sowanick said she was "surprised by how interactive the exhibit was and how many different mediums were used," explaining that she thought the exhibit was just going to consist of paintings. 
Jonathan VanDyke's "The Ladder Maker" will be on display for the rest of October, and can be viewed Tuesday-Friday from 3-5 p.m., and on Saturdays from 2-5 p.m.