CSE hosts "Caf Hack" Clash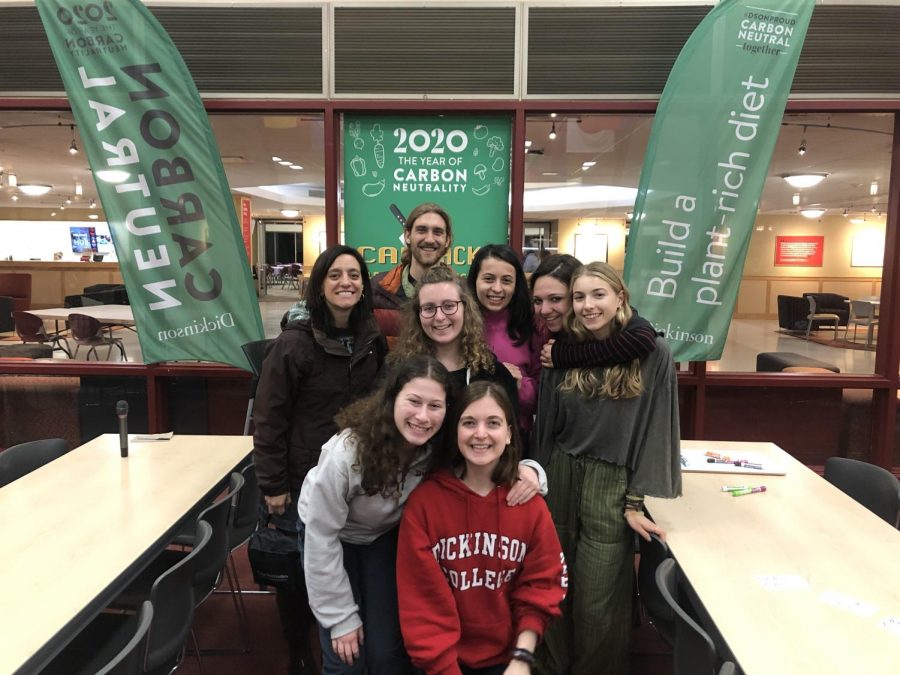 Jacob DeCarli '22, Managing Editor
November 14, 2019
The Center for Sustainability Education's (CSE) initiative to increase sustainable behaviors on
campus continued with their first annual Caf Hacks competition, where students were tasked
with creating a plant-based meal with accessible ingredients.
Six teams participated in the competition. CSE required teams to plan their dishes before the
event, and during the event they had 15 minutes to prepare their dish. Teams had access to all
foods in the caf for ingredients in efforts to "inspire students to try a more plant-based diet," said
CSE Special Projects Intern Allison Miller '20.
CSE invited three professors to participate as judges which included Nutrition Education
Coordinator for Project Share Weston Petroski, Professor of Anthropology Maria Bruno, and
Macallan Fox '20. Each judge ranked the dishes based on separate criteria. Petroski evaluated
each dish on nutrient density and whether they were a "complete protein or a simple carb," he
said. Bruno focused more on the seasonality and taste of the dishes. Fox was the only student
judged and ranked the dishes based on the prices of the dishes to see the "cost of the ingredients
for students after college," she said.
Dickinson Public Safety (DPS) officer Abba Copes was the MC for the competition. Copes
explained her interest in the event because "they are making all health based and plant-based
food," and continued that she "like[s] that it shows the creativity and gives everybody the chance
to work together as a team and learn something and have fun." Copes alerted the teams of the
competition's rules and alerted teams of time that remained. Copes said that the event was a
good idea, especially to teach college students how to "use plant-based foods" and "eat healthy
on a budget," she said.
Many competitors made dishes based on their regular creations in the caf, and they wanted
people to learn how to prepare these dishes for themselves. Julia Kagan '21 and her team used a
homemade peanut sauce with their dish that Kagan prepares often. "[I]t's a good way for me to
show other people what it tastes like," Kagan said. Another member of Kagan's team, Willow
Huppert '20, explained that she prepares a lot of her food in the caf and said she likes to "gather
ingredients to make nutritious, plant-based dishes that are tasty."
Other competitors prepared dishes inspired by other dishes from around the world. Maddie
DuBoyce '20 explained that her study abroad experience in Ecuador inspired her team to make a
quesadilla dish. "I ate a lot of Mexican food in Ecuador by chance, and then also the passion fruit
sorbet," she said and explained that "it's kind-of nice having that flavor still here in the caf."
Emily Pineo '23 and her team, titled "The Green Chefs," created a quinoa and radish dish with
grilled veggies to show their "great love and respect for Latin American dishes," Pineo said and
continued that "relationships" and "meaningful moments" also inspired the dish.
After the judges deliberated over each dish, the "Animal Activism Club" won the competition
with their veggie quesadilla creation. Members included Carolina Celedon '22, Alex Tapia '22,
Talya Lubit '22, Arianne Lilley '22, Mya Peck '22, and Amelia Fitch '22. Tapia explained her
excitement with the win and said the compeition was a "great experience, and we should
encourage students to make plant-based meals in the caf."
Miller explained the idea for the competition emerged during the Beehive event. "With the help
of our communication and outreach interns, our carbon neutrality coordinator and Cody
Rosenbarker (sustainability learning coordinator), we were able to create a group wide effort to
facilitate this event," said Miller. She also explained that she hopes more students will want to
adopt a plant-rich diet and "try to go one less meal a week with meat in it, and it's really possible
to create plant-based meals on campus," she said.
The event took place on Thursday, Nov. 7 from 4:45 p.m. to 6 p.m.