Mouse Disrupts Quarry Service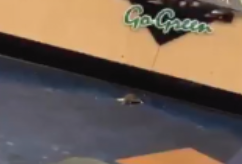 Drew Kaplan '20, Editor-in-Chief
February 13, 2020
Food service at the Quarry was temporarily suspended on Thursday, Feb. 6, after a mouse was found in the building. 
Retail Operations Manager Stephanie Doulgeris explained in an email that the mouse was observed around 5:30 p.m., and that Facilities Management was called to remove it. Director of Dining Services Errol Huffman confirmed in an email that "there was a pest issue at The Quarry and the management team initiated the standard response protocols" to mitigate the situation. 
Students expressed concern about the situation. "It's definitely disconcerting and I don't find it believable that problem was effectively dealt with fully in just a day or two" said Ellery Coleman '22.
"It was definitely a big surprise, […] and I hope I don't see another one again" added Bridget Williams '21.
Doulgeris explained that throughout "the Quarry was not closed at all." However, some food orders were cancelled while facilities and dining services were contacted. Doulgeris noted that instructions were given "to thoroughly clean and sanitize the area where the mouse was sighted on the floor, and all space and equipment above the area, as purely a preventive measure." Doulgeris continued that there was no evidence found of mice nesting in the Quarry, nor any "indication of pest infiltration of any product." Although exactly how the mouse entered the building remains unclear, Doulgeris explained that the mouse likely entered the building through an open door. "The doors open frequently as people enter and exit the building and provide most opportunity for infiltration" Doulgeris added.