Panelists Discuss Protests Around the World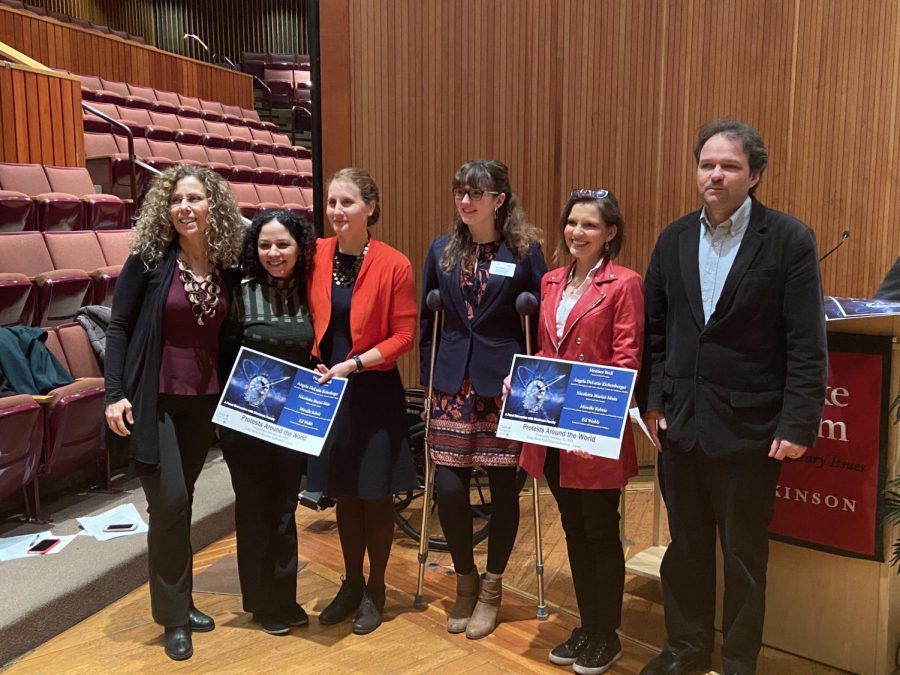 Jacob DeCarli '22, Managing Editor
March 5, 2020
Amidst a new era of technology and connectivity, a panel of professors explained the increase of protests around the world organized by younger generations. 
The Clarke Forum for Contemporary issues welcomed five Dickinson College professors to each talk about social justice movements and protests in India, Chile, Italy, Lebanon, Algeria and Iraq. The professors prepared a 20-30-minute presentation of their selected country and examples current youth activism. 
Student project manager Erin Lowe '22 delivered opening remarks and introduced the panelists to the audience. She then discussed the topic of youth activism today and reflected on her own experience as a protest organizer. "Protesting allows us to speak out against injustice," she said. 
Assistant Professor of Environmental Studies Heather Bedi started the presentations with her discussion of youth climate activism in India. She showed pictures of different youth activists of color around the world, and then explained how the activists were less recognizable than Time Magazine's person of the year Greta Thunberg. The 17-year old became famous with her organizations of global climate strikes and has met with world leaders to discuss the threat of climate change. "We need to ask who is represented and how does this affect existing power structures," Bedi said of recognition contrasts between young activists of color and Thunberg. 
Bedi then discussed the power of social media to create collective action for climate change between young people. "Youth climate activism is not homogenous…you see distinct identities," she said. 
Assistant Professor of Spanish and Portuguese Angela DeLutis-Eichenberger began her presentation with videos from December 2019 of protests in Chile. The government raised prices for the metro fair in metropolitan areas, and this caused young Chilean citizens to protest them. Most of the protesters included students who regularly took public transportation to school.  DeLutis-Eichenberger explained that high income inequality and taxation on the middle-lower class citizens influenced people to take actions. 
The protests in Chile turned violent as the President Sebastián Piñera declared a state of emergency and deployed the military on the protesters. DeLutis-Eichenberger highlighted spread of videos on Twitter by the protestors that showed police officers and soldiers attacking people in the streets. Widespread circulation of these videos created global attention to the violence in Chile. DeLutis-Eichenberger then showed a photo of Chilean singer Mon Laferte at the 2019 Latin Grammys who bore the statement, "En Chile Torturan Violan Y Matan" translated to "In Chile they torture, rape and kill," on her chest. "We will see how history continues to play out in the next few months," DeLutis-Eichenberger said. 
Associate Professor of Italian and Film Studies Nicoletta Marini-Maio started her presentation with graphs that depicted the rise of right-wing populism in Europe. La Lega (translated to The League) is a right-wing Italian political party led by Matteo Salvini. La Lega received 37 percent approval rating in 2018, and Salvini is often compared to U.S. President Donald Trump and U.K. Prime Minister Boris Johnson explained Marini-Maio.
Marini-Maio then talked about the Sardines Movement—organized by young Italian activists to prevent the spread of right-wing politics and power in Italy. Protests started in Bologna and moved to Rome, where 100,000 people took to the streets. According to Marini-Maio, the Sardines movement differs from others because there was no trigger for change. "[The] intention is to fight populism and Salvini," she said. The mass protests influenced voters in Emilia-Romagna to support the progressive party rather than Salvini's party.
Assistant Professor French and Women's Gender & Sexuality Studies Mireille Rebeiz discussed the rise of tensions of her home country, Lebanon, and events that led to current protests. Years of economic stagnation and corrupt politicians caused turmoil in the once prosperous country.  Then Rebeiz explained that the 2019 taxation of WhatsApp was the, "cherry on top of oppressive actions," and people began to protest for new political leaders.  Rebeiz also highlighted the collective sense of national identity between protestors.
Rebeiz continued with the importance of women on the frontlines of protests in Lebanon. "We don't need the West to save us as women," she said and concluded that current protests around the world connect through social media platforms. 
Associate Professor of Political Science and International Studies Ed Webb spoke of protests in Algeria and Iraq. Webb explained that protests are not new in the world and that, "most protests fail than succeed." He discussed the successes of current Algerian protests, organized by students and trade unions. Citizens of Algeria called for the resignation of President Abdelaziz Bouteflika after he announced his candidacy for a fifth term in office. "The protests have been peaceful," he said, and Boutefika resigned. 
However, Webb discussed current protests in Iraq as violent and repressive against the protestors. A regeneration of corrupt government caused young people to protest, and Webb said these are "unprecedented and by far the largest," in Iraq's history, accompanied by significant deaths. 
An audience of 100 Dickinson College students, faculty and community members attended the event. Isiah Godoy '20 enjoyed the diversity of regions selected by the panelists. "It's refreshing to finally get discussions that are not Eurocentric…it was academically enriching to learn about their uniqueness and universality," he said. 
"Protests Around the World" took place on Wednesday, Feb. 26 at 7 p.m. in ATS and was hosted by the Clarke Forum for Contemporary Issues.