Dog Days with Delta Sigma Phi Event a Success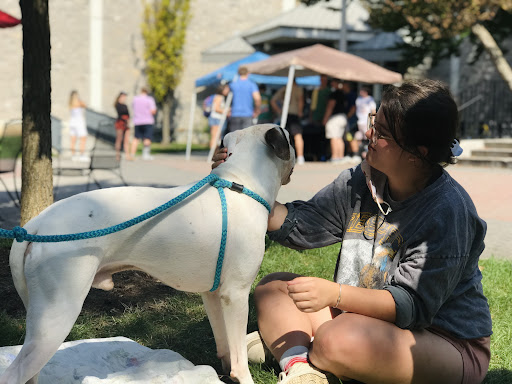 On Sunday, Oct 3, Delta Sigma Phi Fraternity successfully hosted another Dog Days with Delta Sigma Phi event. A local animal rescue shelter, Speranza Animal Rescue, brought animals for students to pet and sold shirts, raffle tickets, and pet essentials. Members of Delta Sigma Phi coordinated with Speranza, helped to set up the event, and staffed the tables on Britton Plaza.
At the event, students could pay $5 to pet the dogs, Fern and Pillsbury, and the goat, Ballerina, for 30 minutes. Ballerina is a Nigerian Dwarf goat who was abandoned by her owner when she was a week old because she was bow-legged. She was taken in by Guido, who got her leg braces and took care of her, eventually resulting in her bow-leggedness being cured. Pillsbury was initially found abandoned and tied to a tree. He was a guard and companion dog of a homeless person, but was rescued by Speranza.
Speranza is a non-profit animal shelter founded by Janine Guido in 2012. They have a 17-acre farm in Mechanicsburg, Pennsylvania, where they house dogs, goats, ponies, donkeys, emus, alpacas, zebras, and a camel. The animals are rescued from abuse, euthanasia lists, kill-shelters, or from owners who abandoned them.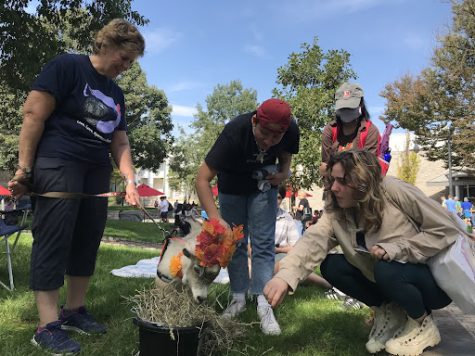 Speranza Animal Shelter heavily relies on volunteer work in order to function. Michelle said that she first became a volunteer when she heard about the story of a dog named Libre, whose rescue led to a law being passed in Pennsylvania to make animal neglect and abuse a felony. She also said, "Speranza's farm is my happy place. I drive up to the farm on Friday evenings and it's just so nice to be with the animals."