Clarke Forum Speaker Reimagines College Admissions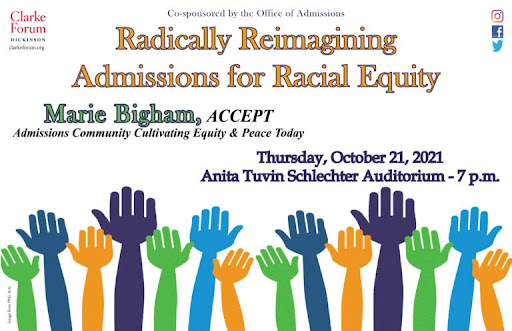 The Clarke Forum for Contemporary Issues and the Dickinson Office of Admissions hosted a talk by Marie Bigham on Oct. 21, entitled "Radically Reimagining Admissions for Racial Equity." The program was part of the Clarke Forum's ongoing series, "Leadership in an Age of Uncertainty."
Bigham is the founder and executive director of Admissions Community Cultivating Equity & Peace Today (ACCEPT), as well as an experienced college admissions professional. She spoke about ACCEPT's mission, its ongoing projects, and the fight for racial equity in college admissions.
During her 20+ years as an admissions counselor, Bigham noticed that "racial justice just wasn't a priority for most people." So, in July 2016, she founded ACCEPT on Facebook to create dialogue between admissions professionals concerned about the impacts of the college admissions process on racial equity. The group has since grown to over seven thousand members and launched a research-to-practice partnership called Hack the Gates to "shift the focus to how we can make systemic change" in college admissions. 
Bigham also dispelled common misconceptions about the college admissions process. Though most people see individual accomplishments as the driving force behind admissions decisions, she says that "institutional priorities" always come first. She also claims, contrary to popular opinion, that the foundations of "holistic admissions," long the hallmark of selective college admissions, "are racist." That method of selection, she says, hails from an era where colleges were determined to turn away Jewish and immigrant students.
Bigham also touched on the impacts of the COVID-19 pandemic on the college admissions process. She recognized positive changes in deposit deadlines, standardized test requirements, student recruitment strategies, and methods of application review, but she is not entirely optimistic. "This won't stick," she predicted.
Amanda Sowah '22, the Clarke Forum's student project manager for the event, said that Bigham's focus on breaking down the barriers to college admissions "resonated with personal experience." Sowah remembered the frustration of working through the college admissions process as a high school student. She lamented "the way we think of rankings," saying that we confuse "what's important about colleges."
When a faculty member asked Bigham what she would say to his colleagues who worried about Dickinson's place in the U.S. News and World Report college rankings, she echoed Sowah's ideas. She said, "the chase for prestige is hollow and lacks meaning," and implored faculty members to "be as critical of that stupid magazine as you would be about anything else."
Bigham was also emphatic in decrying the role of the College Board in monetizing admissions, saying "it's truly sickening how much money they make, how much control they have." On the other hand, she praised the Common App, a partner of her Hack the Gates campaign, for its "intense changes to support equity."
Throughout, Bigham returned to the point that "the system is working exactly how it was designed," intentionally and unintentionally excluding students based on race, income, and family background. When asked what immediate changes should be made, Bigham said, "If the president of Dickinson is listening, you all [universities] need to double your admissions staff." She ended her time by asking the audience to "join us in this fight for change."