Dickinson Women's Basketball Finish Their Regular Season on a Roll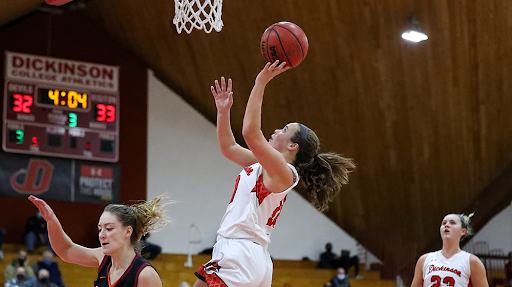 Dickinson Women's basketball won six games in a row to finish their season, qualifying for the Centennial Conference playoffs and climbing into the four seed. Going into the final day of the regular season, the Red Devils had made the playoffs but needed a victory at home to clinch the four seed and a play-in game at home at the Kline Center. The Red Devils took care of business, taking down Bryn Mawr by 45. Dickinson will play at home on Tuesday. 
A month earlier, Dickinson had been 5-9, on the outside looking in on the playoffs. But finishing their season winning nine of their last ten games, including their last six games, got them comfortably into the playoffs. 
Defensive play was the key to Dickinson's success down the stretch. The Red Devils really showed a strong defense against the number two team in the conference, Johns Hopkins. In a game with an overtime period, the Red Devils held the Blue Jays to only 54 points. They were able to do that largely due to a stifling defense that forced Hopkins into shooting 22-69 from the field including only 1 of 22 threes. Dickinson pulled away in overtime as they held Johns Hopkins to 4-16 shooting from the field.  
Before that, the Red Devils won another key game against Muhlenberg, a team they had lost to just a week earlier. It was another game that went down to the wire, and another game where the Red Devils defense prevailed. In that thriller, Dickinson only gave up 44 points. They made Muhlenberg fight for every one of their points. 
This is a main theme for Dickinson's defense. They really put pressure on and don't make it easy for opponents to pass to open players. Dickinson doesn't allow space for their opponents, especially in the interior. Wherever the opposition plays a pass inside, the receiver is immediately surrounded by swarming Dickinson defenders who make it very hard for the player to keep the ball. 
One of the players who can usually be found in that swarm is Kate Montgomery. Montgomery had a huge game against Muhlenberg. Her presence was felt all over the court throughout the game. It doesn't always show up in the stat sheet, but Montgomery's ability to contest interior shots leading to misses was on display again against Muhlenberg. It was one of the Red Devils' keys to victory. Whenever Dickinson needed a response basket or a big rebound, Montgomery was there. She finished with 17 points, 15 rebounds, including 5 offensive, a steal and a block to cap it off. On the year, Montgomery is averaging 10 points and six rebounds and is fifth in the conference in offensive rebounds per game.
Dickinson will try to keep their season alive and advance in the playoffs to play number one seed Gettysburg with a win against Washington College.
In their last matchup, Dickinson handled Washington, winning by eleven on the road. Dickinson showed off their scoring ability with 63 points. Jennifer Kremp was their leading scorer with 18 points as she hit 5 threes. Kremp leads the team in scoring this season, averaging 11 per game, putting her tenth in the conference. Clair Marion, who leads the conference handily in three point percentage, shooting close to 41 percent, had 4 threes en route to a 16 point performance. Kate Montgomery chipped in, scoring 14 points with 5 rebounds and 4 assists. 
Dickinson is coming into Tuesday's matchup against Washington College scorching hot and full of confidence.  Dickinson students can support the Red Devils in their last home game of the season, a huge game for a team that is peaking at the right time.