Met Gala 2021 Misses the Mark
On Monday, September 13th the long awaited Met Gala returned to the Metropolitan Museum of Art to celebrate and raise money for the museum's Costume Institute.  The theme is based on the Institute's exhibition, "In America: A Lexicon of Fashion", and viewers seemed to be more than a little disappointed with what they saw on the red carpet.
A night that was meant to uplift and celebrate American fashion and design left viewers questioning how looks were on theme.  Stars like Hailey Bieber and Lil Nas X arrived wearing foreign designers, Saint Laurent and Versace, respectively. And they weren't the only ones; countless looks were created by foreign brands like Prada, Balenciaga, Dior, Chanel, and Valentino.  While some designs paid homage to eras in American culture, like Billie Eilish's Hollywood glamour gown (Oscar de la Renta) or major American figures such as Yara Shahidi's Josephine Baker inspired look, there was a glaringly obvious lack of representation.
With a theme that should have been the perfect opportunity to highlight up and coming BIPOC American designers, the Met Gala failed miserably. Though this is not much of a surprise when you hear that a designer must put down $275,000 to $500,000 to reserve a table at the event (according to Business Insider).  This leaves smaller brands out of the running to promote and feature their own designs, meanwhile, billion dollar companies such as Louis Vuiton can afford to rent multiple tables and invite many A-list, typically white, celebrities to wear their designs.  
If the lack of representation wasn't bad enough, model and actress Cara Delevingne is under fire for her look with Dior which featured a white vest with bold red letters saying, "Peg the Patriarchy."  This phrase was first coined in 2015 (and eventually copyrighted) by artist and sex educator Luna Matatas. Neither the model, nor the Dior designer, Maria Grazia Chiruri, gave Matatas any artistic credit or mention.  Matatas took to Instagram to rightfully claim her work and discuss its meaning, denouncing the colonizer attitudes Delevingne and Dior embody.  She also reminded everyone that "as a fat, queer, POC I am working twice as hard just to do what I'm already amazing at."  
With so many flops and misses, who embodied "In America"?  Two celebrities and designers stand out to me and they are poet Amanda Gorman in Vera Wang, and Quannah Chasinghorse wearing Dunas x Revolve.  Both women made their Met Gala debuts this year, and brightly outshined many of the long time attendees.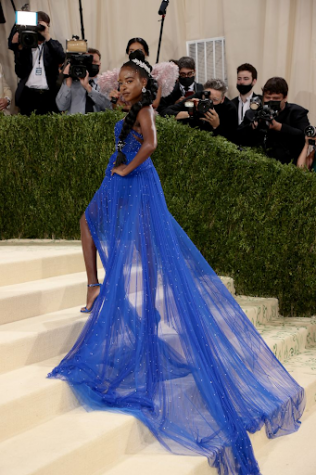 Gorman showed up repping an iconic American designer, Vera Wang. Her outfit took inspiration from the Statue of Liberty with a modern cut and in a strikingly bold blue. She also carried a clutch purse in the shape of a book with featured text from the poem by Emma Lazarus at the bottom of the Statue of Liberty, "Give us your tired."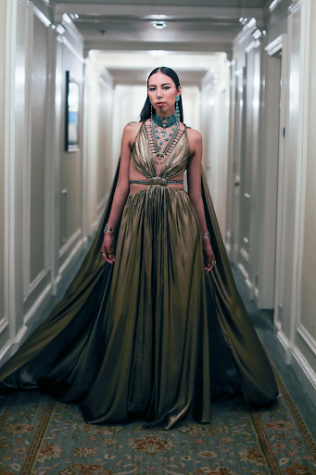 Indigenous model Quannah Chasinghorse has been taking the fashion world by storm and stole the show on Monday night.  She wore a flowing golden dress with capes that emulated wings.  Her traditional Yidįįłtoo hand-poked facial tattoos, as well as the beautiful and authentic Navajo jewelry encapsulate the "In America" theme.  Her look was a fan favorite of the night, with one twitter (NFWMBBY_) user saying "Quannah Chasinghorse didn't understand the assignment.  She IS the assignment and everyone else failed." 
Yes, American fashion is blue jeans, athleisure, and Hollywood glamour, but there is more to it than bringing back old aesthetics and eras. American fashion is Black fashion and Indigenous fashion.  With such poor representation, the night ended up looking much more performative than anything else, and was untimely considering the cost of such an event and the pandemic our world is still facing.