Letters From Abroad: The Pyrenees
Meri St. Jean '15, Abroad Columnist
September 19, 2013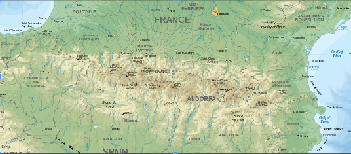 I just spent the past few days in the most amazing place I've ever been. Ok, that might be a bit of an exaggeration, but the Pyrenees definitely make it to my top ten. A mountain range that spans 44,942 sq. miles, the Pyrenees sits on the border between France, Spain and Andorra (thanks, Google). My host, Muriel, has a family house in a town called Aas (yeah, I'll just leave the jokes to you, dear reader) and she invited two of her friends and I down for the weekend.
It was amazing. The houses all look so typically French: lining narrow streets, with painted shutters and flower pots hanging out the windows. The town is small enough that you can see the church's steeple from just about all of the houses. Muriel's house had pictures of local plants and wildlife, an outdoor bathroom and a gigantic fireplace. The best part of the house, though, was the back porch which had a wide, unhindered view of all the mountains surrounding the house, and a comfy couch, perfect for watching and napping.
We spent the first day hiking a smaller mountain called the Green Mountain and when we reached the top—breathtaking. Looking down from the right side of the mountain you can see the little town of Eaux Bonnes, home to thermal springs, cradled in a valley. On the left, more mountains rising, partially hidden by clouds. And in the distance, I kid you not, we could hear the soft tinkling of cow bells. I swear to God I felt like Heidi.
On the second day, we drove to the Pyrenees National Park. The hike took us about five hours total, and was almost entirely uphill, but was so incredible. We went through a forest, then a prairie and then did semi-legit rock climbing to get to see three lakes, placid and perfect. So, so cool, but also difficult for me—the only exercise I've done in the past three years was two half credits of aerobic activities. Even while writing this, everything kind of hurts. There's a definite ache to every step I take, but it's kind of a triumphant ache. It's an I-climbed-two-mountains-in-two-days ache… I'm kind of loving it.
I'm not calling myself the luckiest girl in the world by any means, but getting to go see some amazing mountains my second weekend in France? Pretty damn lucky.