Davenny Making Noise at the Trout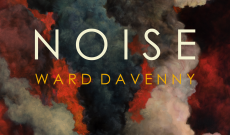 It was Professor Emeritus Ward Davenny's time in the spotlight Friday night as his exhibition, "Noise," opened in the Trout Gallery. Attendees enjoyed wine, appetizers and a chance to mingle with professors, other students and Davenny himself. Accompanying the art was an original musical composition by Davenny's friend, Pulitzer Prize-winning composer Yehudi Wyner, to reflect the spirit of his art.
Davenny retired from Dickinson's Department of Art in 2020 after 28 years of teaching. He studied art at the San Francisco Art Institute and at Yale, and is known mainly for his charcoal drawings. This particular exhibit features his more recent charcoal drawings, photographs, oil paintings of clouds and some video works.
"Noise," the title of the exhibit, manifests throughout his work visually rather than aurally. Davenny mixes differently-colored, overlapping clouds in his oil paintings to evoke a visual noise like the cacophony of sound in a café. With some of his photographs, he plays with the Photoshop "Noise" filter, and in other photos there is a stillness, or lack of noise, as with his photograph of statues in an empty art gallery. 
Clouds and stormy skies are popular subjects in Davenny's show. Davenny was a storm-chaser, capturing on video and in photographs the pre-tornado moments which he later translated into his art. When asked about the exhibit, Davenny noted that in terms of "subject matter, it's always been nature, it's always been kinda Baroque and dark and anticipatory of something happening." Anticipatory is a perfect word to describe his body of work featuring stormy skies, billowing clouds and dark, almost eerie photographs. 
"Noise" will be on view in the Trout Gallery until April 15. Gallery hours are Monday-Saturday, 10 a.m. to 4 p.m.