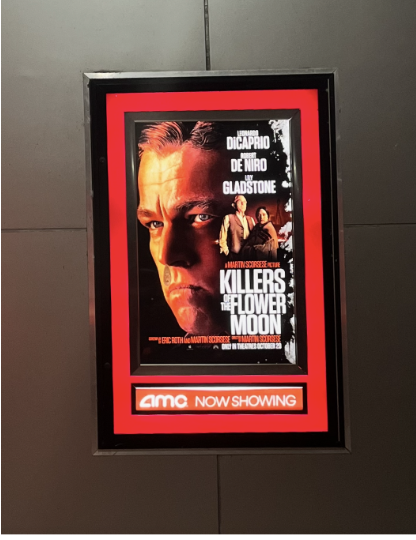 "Can you find the wolves in this picture?"
Martin Scorsese's latest film, "Killers of the Flower Moon," focuses on the true story of more than 60 murders which took place in the Osage nation in the 1920s. It lifts a veil on American history that has historically concealed colonial violence in Native American communities as a natural process of integration and white dominance. The narrative's trueness to the real events and care with which Scorsese handled the storytelling make the film compelling.
In an interview with Time, Scorsese said he "realized [he] was making a movie about all the White guys" in his original script. "I was taking the approach from the outside in, which concerned me." Scorsese then pivoted, focusing his story more on the poisoned love story between Mollie, played by Lily Gladstone, and Ernest Burkhart, played by Leonardo DiCaprio. 
Scorsese turned to descendants of the victims and Osage consultants to ensure the narrative's authenticity to both history and Osage culture. Language consultant Christopher Côté remarked to the Hollywood Reporter, "as an Osage, I really wanted this to be from the perspective of Mollie and what her family experienced… But I think it would take an Osage to do that." Nevertheless, Scorsese "did a great job representing [the Osage] people."
"Killers of the Flower Moon" is originally a book written by David Grann, framed as a "whodunit" mystery which prioritizes the FBI's investigation of the murders. Scorsese's film, in contrast, focuses on the Osage people and ruminates on Ernest Burkhart's descent into evil as he becomes a perpetrator of Osage violence. Scorsese is concerned with the systemic reasons for the murders over revealing a sole culprit for shock value. 
In 1906, a statute ensured that all mineral resources on Osage land would lawfully belong to Osage citizens. Profits from oil were divided up into equal shares called "headrights," making the Osage nation very wealthy. "Killers of the Flower Moon" examines the true story of violence that rose out of white entitlement to this wealth.
Leonardo DiCaprio portrays a man returning from war who mindlessly moves into the Osage nation in which his uncle, William Hale lives. Hale is played by Robert De Niro, a white man greatly valued by the Osage people for contributing money to infrastructure and offering advice to the citizens. De Niro's character assures Ernest that if he marries an Osage woman, they can profit from her family's headrights; in a mixture of Ernest's money-loving spirit and a "love" for Mollie, Ernest does just that.
There is no sympathy for the way Ernest is manipulated by mastermind William Hale into becoming a tool of the Osage nation's brutal undoing. Scorsese doesn't ask why people do evil things, he plainly depicts a story where evil just happens. Mollie and her family become an unfortunate casualty of Hale's master plan – their lack of humanity in the eyes of Ernest and Hale make the numerous deaths negligible. 
The rising action in the film lacks the definition and anticipation that would be found in a classic whodunit which is exactly why it is so poignantly tragic. These white men commit absurdly violent murders with such flippancy that the viewer, too, feels the frustrating weight of injustice that characterizes American history. 
Injustice is primarily found in the systemic nature of this evil. Osage members were assigned white "guardians" by the U.S. government to oversee how they spent their money. The Osage people's independence was restricted by a white government who believed them to be too helpless to handle their own money. In the film, the same man assigned as Mollie's guardian is a court juror, deciding the fate of the men who killed her family.
Lily Gladstone's Mollie is stoic, calculating. Her performance bounces off of DiCaprio's carelessness in a way that communicates a sense of power. She says very little, yet her performance is striking. Her sickness that worsens towards the middle of the film is reflective of the poisoned world the white colonizers brought upon her family. Gladstone forcefully depicts a sense of grief and horror at being deceived for so long.
The picture of American history is marred by the wolves who committed the crime of colonization. "Killers of the Flower Moon" reminds us why film as a method of storytelling is vital to our culture and why certain stories must be told.