Community & History Collide at Charter Day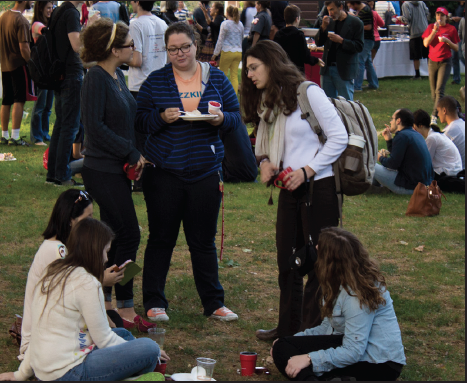 Hang on for a minute...we're trying to find some more stories you might like.
For the third year running, members of the Dickinson community gathered on the academic quad to enjoy a barbeque picnic, Leo's Ice Cream, and a warm fall evening in commemoration of the signing of the school's charter.
Charter Day is an annual event sponsored by Our Dickinson, a subcommittee of the Office of Campus Life.
"[Our Dickinson is] an initiative led by the Office of Leadership & Campus Engagement and the Office of Alumni & Parent Engagement to foster pride and school spirit among current students," according to Annie Kondas, assistant director of Campus Life, sponsored this event.
Our Dickinson pioneered the event three years ago. Until then, the school celebrated Founder's Day in the winter, which consisted mostly of speeches and presentations.
"Founder's Day used to be a day where classes were suspended to memorialize and celebrate Dr. Charles Nisbit, the first President of Dickinson College," said Kondas. "[The day] ended with the student body all marching to Nisbit's gravesite."
Student Senate created Founder's Day in the 1920's, but commemorating the signing of the charter allows the school to take advantage of the fall weather.
"Charter Day also reminds attendees that Dickinson was the first college chartered in the newly formed United States," said Kondas.
The school charter was signed on September 9, 1873. Charter Day was held on September 18 this year. Dining services prepared a barbeque dinner to be served on the academic quad, and local favorite Leo's Ice Cream provided desserts. Attendees could also view an exhibit
The Our Dickinson committee provided ceramic travel mugs as a free gift for students. The committee plans a free gift each year that students will want to use, which a specific committee of students helps choose.
According to Kondas, one of the objectives of the event is to bring the community together.
"There are only a few occasions where the entire community comes together as a whole and this is one of them," she said.
It is also an opportunity for students to reflect on the past Dickinson community.
"We hope that students realize that through the contributions of time, talent and treasure of our alumni, faculty/staff and talented student that Dickinson has grown into the place that they enjoy today," reported Kondas on behalf of the Our Dickinson Committee.
Kondas was pleased with how the event turned out.
"Charter Day is one of my favorite Dickinson traditions and I thought this year was great," she said. "I think I saw every student on the academic quad that evening. I was thrilled with how some great food and nice weather can bring the community together."
Students in attendance also enjoyed the event and appreciated the food.
"I'm all about the Leo's ice cream!" said Kaitlyn Hajdarovic '14. "It's nice to see the whole school come out and celebrate the school's founding."
Nick Toole '16 also appreciated the event.
"Charter Day always reminds us that Dickinson is a community as well as a school," he added. "It's always a fun time."
Tracy Wolf '15 agreed with Hajdarovic and Toole.
"I enjoyed the good food and atmosphere on a warm evening," said Wolf. "Charter Day gave me the opportunity to reflect on Dickinson's history and relax with friends."
The Our Dickinson Committee is looking for student volunteers to help plan programs such as Charter Day. Interested students can contact Kondas at [email protected] or Assistant Director of Alumni and Parent Engagement Maria Keen at [email protected] for more information.