Men's Basketball Drops the Dips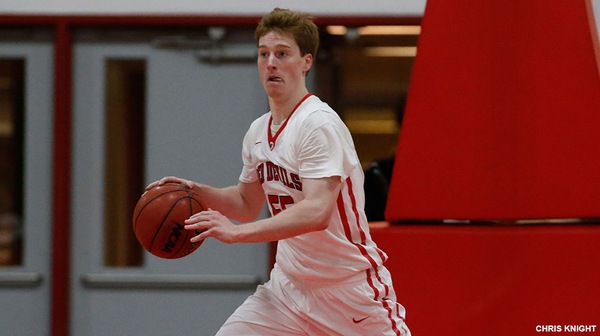 Hang on for a minute...we're trying to find some more stories you might like.
The Dickinson men's basketball team traveled to Swarthmore to face Franklin & Marshall in the semifinals of the Centennial Conference Championships last weekend. Though the No. 2-seed Diplomats swept the regular season matchups, 2-0, the No. 3-seed Red Devils would rally and advance to the final with a 70-64 victory on Friday night, February 24 before going on to suffer a narrow loss to Swarthmore in the final.
The Diplomats jumped out to a 6-0 lead to start the game, sinking some 3-pointers early on. They had built up an 11-8 lead before going on a 10-0 run to lead 21-8 with 9:11 remaining in the first period. Mike Hinckley '19 stopped the run with a three-pointer and buried another to make the score, 25-18.
Hinckley scored again and dished an assist to Justus Melton '18 for a dunk to cut the Dips' lead to three. Hinckley continued to lead the way as the Devils went into the halftime break down just 4, 32-28.
Hinckley started the second half off with a steal and dished an assist to Elijah Wright '19 for a layup to cut the deficit to 43-36.
Moses Romocki '18 cut the lead to three by converting a three-point play with 9:31 left on the clock. Jule Brown '19 knocked down a three-pointer to tie the game before a pair of steals and some quick scores put the Red Devils up 51-47 as they went on a 15-0 run and forced an F&M timeout with 8:02 remaining in the game.
Jared Wright made a three-pointer to pull the Diplomats within one before Michael Jurzynski '19 scored and Hinckley sank another three-pointer to put Dickinson up 56-51 after another free throw by F&M.
Two more free throws by the Dips cut the lead to just three points before Melton and Sam Lorenzo '18 each drained shots inside to stretch the advantage to 7, 60-53.
Brandon Federici led a Diplomat comeback, scoring to tie the game with just 2:15 remaining in regulation. Melton hit a shot and Bryce Allen '20 converted two free throw attempts to give the Red Devils a 64-60 lead.
Melton drove to the basket and scored to put Dickinson up by six and the defense held yet again. Romocki made a free throw to put Dickinson up by seven with just 18 seconds left.
Matthew Tate hit a pair of free throws to cut the lead to five, but with just 11 seconds on the clock it was too little too late. Hinckley and Jared Wright made back-to-back free throws and Melton tacked on two more foul shots to bring the final score to 70-64 sending the Red Devils to the championship game on Saturday night.
Hinckley finished with a game-high 20 points behind a remarkable night shooting, going 6-for-7 from the field, including a 4-of-5 from three. He made all four of his free throw attempts and  added three steals and two assists.
Melton tallied 19 points and grabbed five rebounds while Wright had 11 points and eight rebounds. Romocki scored nine points and hauled in seven rebounds while also racking up five assists. Brown netted five points, five rebounds, three assists and two steals.
The Red Devils suffered a 68-64 loss to Swarthmore in the conference finals on Saturday, February 25. They finish the season with an overall record of 16-11 and a Centennial Conference mark of 12-6.