Track & Field Sets New Records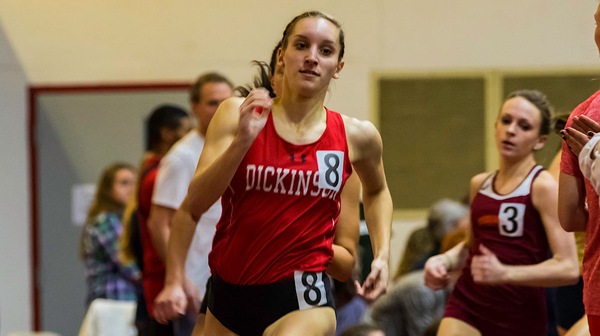 Hang on for a minute...we're trying to find some more stories you might like.
The Dickinson men's and women's rack & field teams traveled to Collegeville on Friday, March 3, for the Ursinus Final Qualifier, with members of both squads turning in record-breaking performances.
Mason Hepner '17 broke yet another school record, his third in less than a week, by clocking a time of 4:12.80 to win the mile. He breaks the 2014 mark of Ryan Steinbock '14 of 4:13.27.
On the women's side, Jamie George '17 broke the 800-meter school record, crossing the line in a time of 2:16.81. That overtakes Callie Bradley's '04 time of 2:16.93, set in 2004.
Adriana Frayne-Reixa '17 ran a great race to clock a personal-best time, placing second in the mile with a time of 5:01.14. Sofia Canning '18 placed second in the 3,000 meters, clocking a time of 10:03.72.
Classmates Amanda Jimcosky '17 and Imani Beard '17 posted repeat wins in the high jump and the long jump from last Saturday's Conference meet. Jimcosky jumped 1.60 meters in the high jump while Beard leapt a distance of 5.02 meters to claim the long jump title.
Aphnie Germain '17 was just off of school-record pace, placing second in the 200 meters with a time of 26.62. Natalie Suess '20 placed second in the triple jump, clearing 10.55 meters, and has been named Rookie Athlete of the Year.
Naji Thompson '19 placed second in the 60 meters as she was just off a record mark as well, clocking a times of 8.02 in the prelims and 8.01 in the final.
Frayne-Reixa and Hepner will both be back in action at the NCAA DIII Championships at North Central College in Naperville, Ill on Friday, March 10 and Saturday, March 10, as both qualified for the mile competition.