Women's Lacrosse Tops Mount Union for First Win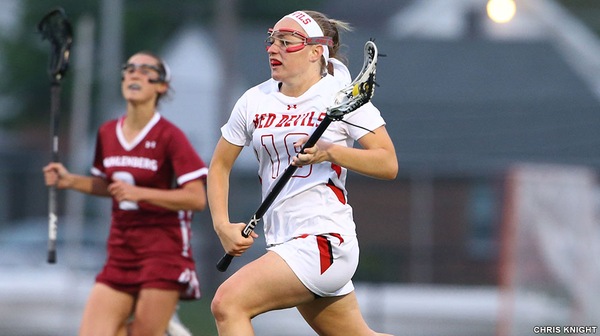 Hang on for a minute...we're trying to find some more stories you might like.
The Dickinson women's lacrosse team jumped out to a 5-0 lead and went on to take home an 18-5 victory at Mount Union University on Saturday afternoon, March 4.
Anne Dunster '19 struck first and went on to tally a hat-trick in the Red Devils' opening 5-0 run while converting a pair of free position opportunities.
Mount Union broke into the scoring column at the 16:58 mark off of a free-position goal. Sam Marmo '19 found the net for the second time on the day, scoring off a feed from Sophie Waine '17 just 35 seconds later.
The Raiders scored again before back-to-back goals from Maddy Siebold '17 put Dickinson up by a margin of 9-2 with 6:18 remaining in the first half.
Eleanor Kaestner '19 added a free position goal and Marmo finished an assist from Siebold with just one second left on the clock to make the score 11-2 at the halftime break.
The hosts would tally three goals in the second half, but the Red Devils would put up seven points to secure the blowout victory.
Marmo added a goal and an assist to finish with five total points on the day, matching Dunster with five goals. Kaestner and Siebold both recorded hat-tricks as well while Siebold controlled six draws. Maddi Parker '19 had three draw controls, scoring two goals and recording an assist.
Tara Cuddihy '17 made seven saves in goal for the Red Devils and Sarah Blelloch '19 came on in relief to add one in the final 12 minutes.
The Red Devils held a 17-8 advantage in draw controls and outshot the Raiders 34-19 on the afternoon. They improve to 1-2 on the season and return home to face Lebanon Valley on Wednesday at 4 p.m. for their first home contest of the year before heading to Vanderbilt University to play Trinity College and Ithaca College over spring break.