Softball Falls to Washington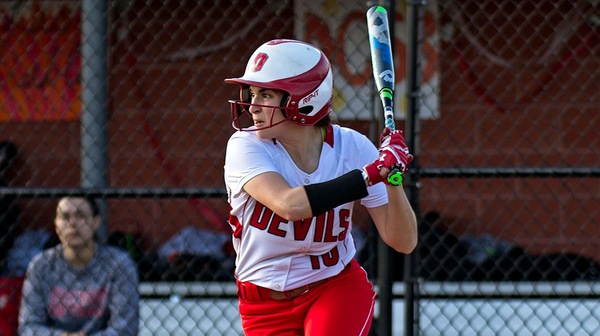 Hang on for a minute...we're trying to find some more stories you might like.
The Dickinson softball team dropped both games of their doubleheader against Washington College on Friday, April 14 in Chestertown, Maryland. The Shorewomen won the opener, 7-1, and escaped with a narrow 2-1 victory in game two.
Washington's Taylor Harcum tripled and scored in the first inning of game one to put the hosts on the board in the early going and tallied two RBIs in the second to stretch the lead to 3-0.
Nicole Torlincasi '17 singled and scored on a base-hit from Alicia Lane '18 in the fourth inning, putting Dickinson's only run of the game on the board.
Harcum added another RBI in the bottom of the fourth as Washington brought in two runs on four hits to take a 5-1 lead. They added single runs in the fifth and sixth innings for the final of 7-1. Lane went 2-for-3 at-bat, adding a double to lead the Red Devils at the plate.
Lane led off the fifth and scored on an RBI from Kat Parise '20 to put Dickinson in front, 1-0.
A double, a single and an error allowed Washington to tie the game up in the bottom of the inning. Leah Stokes singled and moved around on error for the Shorewomen. She would come in to score on another Red Devil error as the Shorewomen won the nightcap 2-1 to complete the sweep.
Madison Milaszewski '19 recorded seven strikeouts and allowed just four hits in the effort, but took the loss in the circle.
The Red Devils fall to 8-20 overall and 4-6 in the Centennial Conference. They travel to McDaniel College on Saturday, April 22 for a 1 p.m. double-header.